By Mahnaz Abdi
Iran in urgent need of railway connected ports
December 20, 2017 - 20:47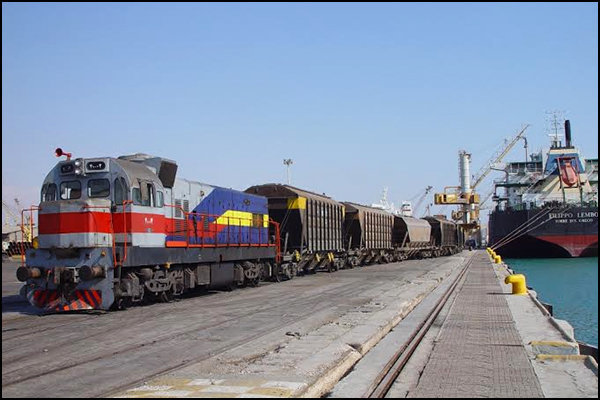 While ports are the main places where the commodities enter and exit from Iran, just four ports in the country are connected to the railway network and railway accounts for just 14 percent of transportation from and to the ports.
It's a very small figure given geographical location of the country and the potential of its ports for transit of goods in the region.
Not only does such low share of rail transportation in the ports limit their loading and unloading capacity, it also makes high traffic of container trucks and trailers in the ports which considering the high risk of road accidents in Iran it is obvious that transportation via railway is prioritized.
Traffic in ports leads to waste of time and decreases safety and security there. It also increases transportation cost and the end price as the result.

Connecting the ports to the railway network has been emphasized by Transport Minister Abbas Akhoundi and also senior officials of Ports and Maritime Organization (PMO) over the recent years, but the question is how will it occur considering the structural weaknesses in the railway sector and also lack of development funds.
Akhoundi is seriously urging that the share of railway transportation from and to the ports should increase to 45 percent. In this regard, he has ordered the PMO board of directors to set up a railway department in the organization to materialize such target.
Railway development in ports to reduce end price
Addressing a ceremony to celebrate the World Maritime Day (September 28), the transport minister emphasized that railway should come to ports like roads so that cargos can be directly loaded from vessels to trains and vice versa. He said it will reduce the end price of commodities, adding: "Once railway comes to each dock in the ports then we can say that we have made transit concept operational."
Hossein Ashouri, a board member of the Islamic Republic of Iran Railways (known as RAI), on October 22 said that Shahid Rajaei Port in southern Hormozgan Province, Khorramshahr Port and Emam Khomeini Port in southwestern Khuzestan Province, and Amirabad Port in northern Mazandaran Province are connected to the railway network and expressed hope that through the cooperation of PMO, Bushehr Port in southwestern Bushehr Province, Chabahar Port in southeastern Sistan-Baluchestan Province and Anzali Port in northern Gilan Province will also join the railway network as soon as possible.
He mentioned reduction of transportation time and cost as the main reasons that make connecting ports to railway a necessity and to support his idea he said that cargo transportation from Sarakhsh to Bandar-Abbas which took one week previously, takes less than three days now that Shahid Rajaei Port is connected to the railway.
And as Mohammad Pour-Fakhri, the director general of Hormozgan Province's Railway Department, says, establishment of rail-container terminal in this port has led to growth in transportation of cargos especially mineral cargos from it over the past years.
But Shahid Rajaei as the main port of Iran, and despite the outlook that has been drawn up for it in development of the country, has not still a proper status in railway transportation. Covering over 2,000 hectares of land this port which 80 million tons of commodities are loaded and unloaded per year in it has just a small railway network of about 55 kilometers (including crane rails).
Also, Chabahar Port despite its strategic location and the role it could play in regional transit of goods is not still connected to the railway. Although, Sistan-Baluchestan Province's Ports and Maritime Department's Director General Behrouz Aghaei announced in late November that the project of building railway from Chabahar to Zahedan (center city of Sistan-Baluchestan) has a 25.7 percent progress so far and the railway will be complete by the next 2-3 years.
No railway connection a hindrance to transit opportunities
Given the important role of Iranian ports in the chain of country's trade, delay in connecting them to railway network not only is an impediment to ports development but it is also a hindrance to the country's high transit opportunities.
Mohammad Saeidnejad, the previous managing director of PMO who is also a former managing director of RAI, is of the opinion that given the development projects underway in the ports, roads capacity is not enough for transportation of goods from and to the ports.
On the other side, if railway does not develop in the ports, the high number of containers trucks and trailers in these places will cause many problems such as traffic, pollution, and some other infrastructural problems. So, rail-port approach is a necessity and the share of railway transportation should increase in the ports.