Towers of silence where antiquity meets modernity
December 27, 2017 - 20:4
TEHRAN – Towers of silence in central Iran are not any more dedicated to bones of the dead to get cleaned by vultures. In modern era, they are just peaceful destinations for domestic and foreign travelers.
Locally known as Dakhmas, the towers have not fulfilled their original function since the 1960s. They are nested on top of lonely, barren hilltops in southern outskirts of Yazd, itself a major touristic city, which has long been a center of Zoroastrianism in the country.
Based on ancient Zoroastrian beliefs that emphasize on purity of the earth, dead bodies were not directly buried but left in such uncovered towers until birds of prey picked the bones clean. The corpses then fell into a pit below, thereby fulfilling the injunction.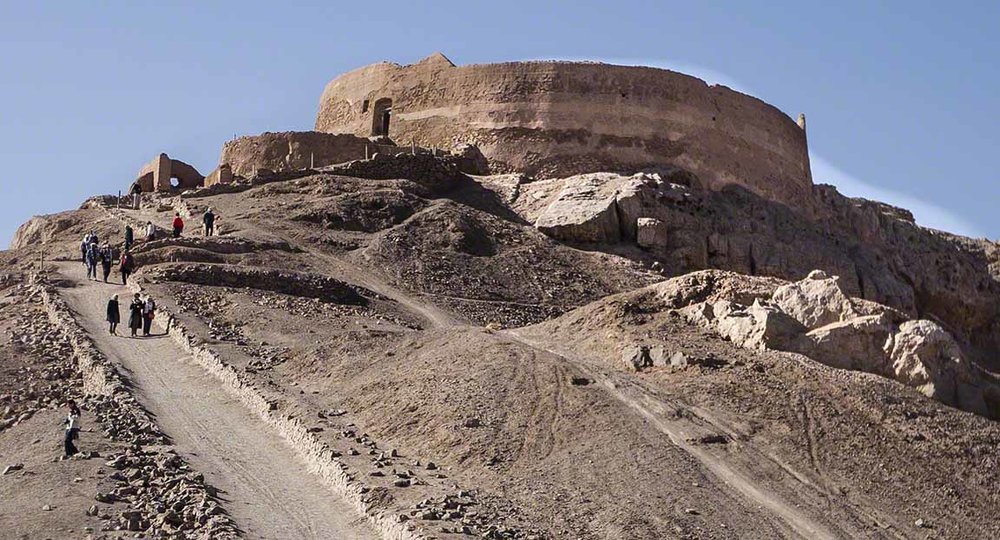 People visit a tower of silence nested on a lonely, barren hilltop on the outskirts of Yazd, central Iran
Narratives say death rituals associated with Zoroastrianism aimed to attain a balance between four natural elements of fire, earth, water and air, with a look into what it calls 'the good and evil forces'.
That's why followers of Zoroastrianism used to let dead bodies to be exposed to the elements. Dried bones were then placed in a pit in the middle of the tower to disintegrate into dust.
Visitors to the towers, may ascent to the top for a peek into inside and enjoy a vista of Yazd and its adjoining desert landscape.
Entrance to a tower of silence
Towers of silence probably become very atmospheric by sunset as some visitors recommend being there one hour before when the sun sets.
They are about 8 meters high and built of brick or stone.
At the foot of the hills stand several abandoned buildings, including a dried-up well and a cistern. Nearby, lies a modern Zoroastrian cemetery as well.
The oasis city of Yazd is wedged between the northern Dasht-e Kavir and southern Dasht-e Lut on a flat plain ringed by mountains. Its historical structure enjoys a very harmonious public-religious architecture that dates from different eras.
With its winding lanes, forest of badgirs (wind catchers), mud-brick houses, atmospheric alleyways and centuries of history, Yazd is a delightful place to stay, which is referred to as a 'don't miss' destination by almost all travel associates in the region.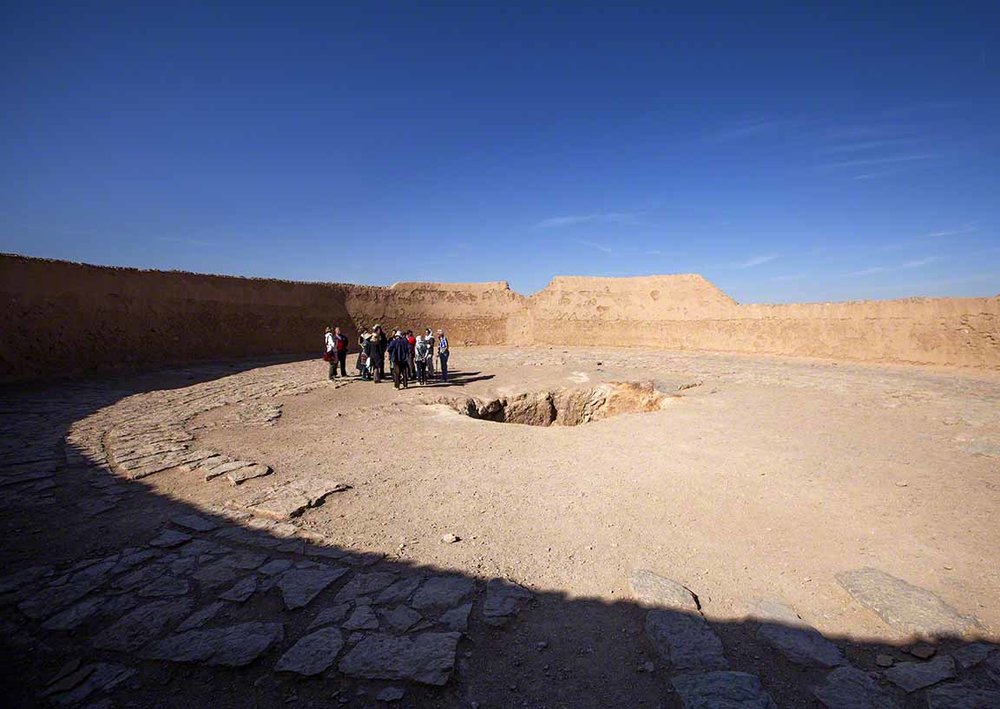 An interior view of a tower with a pit in the middle
Under tourists' eyes
Here is a select of comments that foreign visitors to the towers of silence have posted to TripAdvisor, one of the most popular travel websites in the world:
"Very interesting place with strong energy flow"
Don't miss the whole stories of this place as it makes it so unique and special.
Going up is essential to see the whole place. Also it gives good views around. There is very strong energy there. Going up to one of towers is rather enough but you can choose the one that is less popular.
This place is worth 20 min drive from city center. Taxi is around 3 USD one way. (Very-sunny form Lodz, Poland; Reviewed in December 2017)

"A very interesting and beautiful place"
For millennia and until recently, the 1970's, this place was used to dispose of the dead, a high priest would chop the pieces of the bodies to be fed to the birds.
It is located outside the city and you can visit on tour or by taxi.
There are some temples or buildings at ground level and then you have the two hills with their sanctuaries on top. A few hours visit is enough. A great experience. (Etienne T. form New York; Reviewed October 2017)
"I read about when I was 14 and now I saw it finally"
The country give a lot like history, culture. It's easy to make here new friends because never met so friendly people like in Iran. The museums the old mosques and the cities worth more than one journey. This trip was maybe the best in my life. (Georg Spottle form Budapest, Hungary; Reviewed October 2017)
"Must do in Yazd"
Unique place to visit. Read a bit about the background before you come as all explanation is only in Farsi.
Walk up the tower and try to imagine how the burial ceremony must have been like in those days. A must do when in Yazd. (Isabella Deruiter form Rotterdam, the Netherlands; Reviewed October 2017)
"Iconic place in Yazd with very interesting history"
This place is an essential part of Zoroastrian religion, where the followers lay their dead loved ones' bodies at the top of the tower for the scavenging birds and weather to 'disintegrate' the bodies.
The ascent to the top requires a basic level of fitness but the view of Yazd city from the top is good. I remember seeing motorbikes that bring you to the top too. (Wei T. from Singapore; Reviewed October 2017)
AFM/MQ/MG