Iran honors top books of the year
February 7, 2018 - 19:18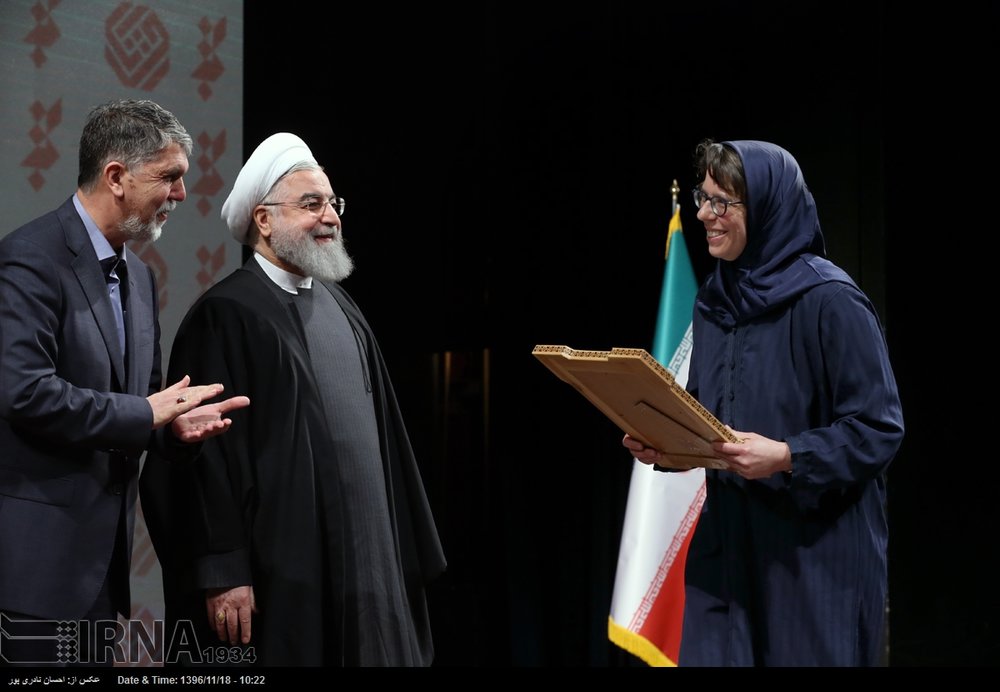 TEHRAN – Top publications in various categories were honored at the 35h national edition of Iran's Book of the Year Awards, which were presented by President Hassan Rouhani during a special ceremony at Tehran's Vahdat Hall on Wednesday.
In his brief speech, Rouhani said, "Thoughts can link the world of the past with the world of today," and added, "Thoughts can be saved either in words or through books."
"Books reflect the thoughts of a nation in a period of time throughout history. Today our nobles and the scholars carry a heavy burden to clarify what is good and necessary for the people through words and books," he noted.
The award in the general art category was presented to "The Encyclopedia of Art" by Rueen Pakbaz.

"This Street Has No Rumble Strip" by Maryam Jahani and "Booklessness" by Mohammadreza Sharafi-Khabushan shared the award in the contemporary literature section.
"The National Art Group" by Ruhollah Jafari received the award for best book in the dramatic arts category. The book reviews dramatic arts in Iran from 1956 to 1978.
"Study of Art of Music" by Majid Kiani was named the best music book.
"Euripides: Five Plays" translated by Abdollah Kowsari into Persian also received an award. The plays are from the tragedian of classical Athens, Euripides.
In the children's literature section, "Like Nobody" by Sepideh Khalili and "A Bear That Smokes" by Javad Rahnama shared the award.
The award in the translation category went to "The Thing about Jellyfish" written by American author Ali Benjamin. The book has been translated into Persian by Keivan Abidi.
Several books published overseas were also honored. "Transmission of Secret Knowledge" by Regula Forster, and "A State of Mixture: Christians, Zoroastrians, and Iranian Political Culture in Late Antiquity" by Richard E. Payne are among the books.
Also included are "The Formation of the Islamic Understanding of Kalala in the Second Century AH" by Pavel Pavlovitch and "The Medieval Reception of the Shahnameh as a Mirror for Princes" by Nasrin Askari.
The organizers also honored books in dozens of categories, including history, religion, philosophy, social sciences, engineering and geography.
Photo: President Hassan Rouhani honors Swiss author Regula Forster for her book "Transmission of Secret Knowledge" during Iran's Book of the Year Awards at Tehran's Vahdat Hall on February 7, 2018. Culture Minister Seyyed Abbas Salehi is also seen in the photo. (IRNA/Ehsan Naderipur)
RM/MMS/YAW