Iran's missile program not related to nuclear deal: Russian diplomat
April 7, 2018 - 19:54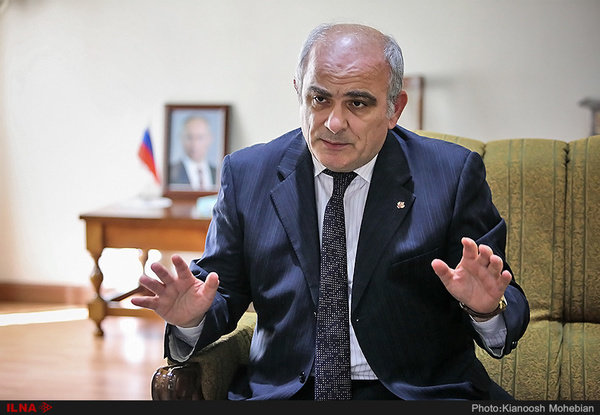 TEHRAN - Russian Ambassador to Tehran Levan Dzhagaryan has said that Iran's missile program is not related to the 2015 nuclear deal, officially known as the Joint Comprehensive Plan of Action.
In an interview with ILNA published on Saturday, Dzhagaryan said that any change to the text of the JCPOA is a clear violation of the UN Security Council resolution 2231.
In a statement on January 12, U.S. President Donald Trump gave Europeans only 120 days to agree to an overhaul of the nuclear agreement. He threatened if the text of the nuclear deal is not revised he would unilaterally withdraw the U.S. from it. Trump said the nuclear deal should include Iran's defense program including missiles.
According to the nuclear agreement signed between Iran, the five permanent members of the UN Security Council - the U.S., UK, France, Russia, and China – and Germany, Iran agreed to put limits on its nuclear work for termination of economic and financial sanctions.
"Russia has constantly contacted the 5+1 group member states and our position in this respect is clear. The JCPOA is a good document which should be protected, but the U.S. and European countries' approach could cause this good deal to reach a deadlock. However, Russia supports the agreement," the ambassador remarked.
Ambassador Dzhagaryan noted that Russia will continue cooperating with Iran even if the U.S. pulls out of the nuclear deal.
The nuclear deal was struck in July 2015 and went into effect in January 2016.
Ali Akbar Salehi, director of the Atomic Energy Organization of Iran, warned on Thursday that Iran will give a surprise if the U.S. scraps the nuclear deal and if the European countries and other major powers do not resist Washington.
Ambassador calls Moscow-Tehran ties 'strategic'
Elsewhere, Dzhagaryan said that Russia is very "optimistic" about prospect of economic relations with Iran.
He described Tehran-Moscow ties as "strategic".

NA/PA