IFRC president pledges support for Iran's Red Crescent Society
April 18, 2018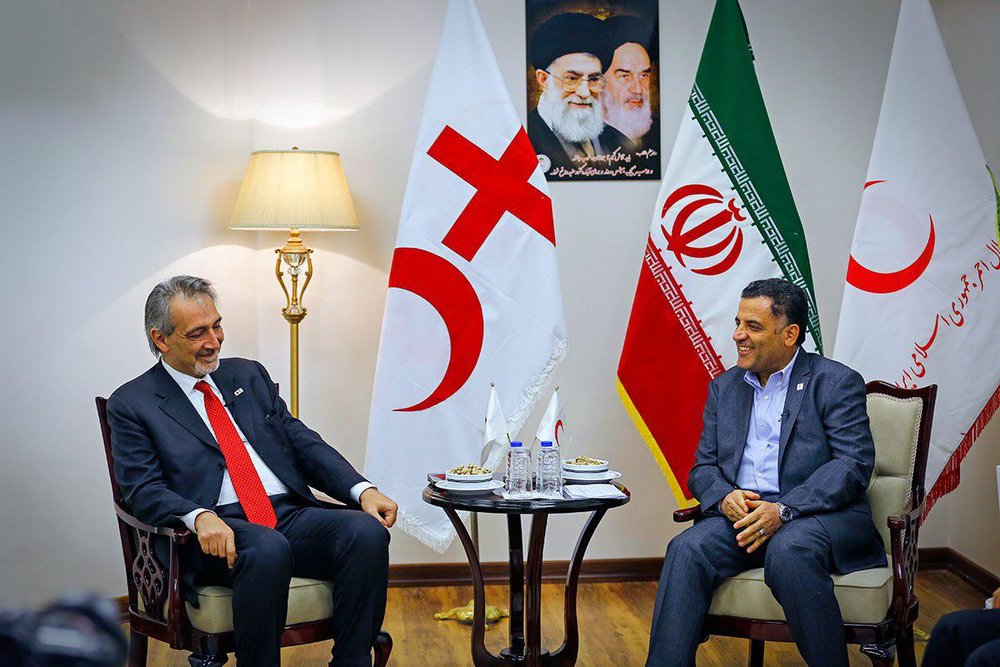 TEHRAN – Referring to the participation of Iran's Red Crescent Society (IRCS) in humanitarian events in other countries, the president of the International Federation of Red Cross and Red Crescent Societies (IFRC) Francesco Rocca highlighted that he will strongly support Iran's Red Crescent Society.
He made the remarks in a meeting with the IRCS head Ali Asghar Peyvandi in Tehran, Mehr reported on Sunday.
Expressing happiness over his trip to Iran, Rocca emphasized that there are many areas for bilateral cooperation.
Syria is now the most important issue in humanitarian realm, he said, adding that IFRC won't let any society to use Syria for showing off.
He went on to say that IFRC counts on Iran's Red Crescent Society, hoping that further cooperation would lead to finding practical solutions for the regional challenges.
Peyvandi, for his part, emphasized the need to boost bilateral cooperation and expand humanitarian actions across the region and the world.
The Islamic Republic of Iran, as one the Governing Board members of IFRC, supports Rocca and the federation's plans, he highlighted.
Peyvandi went on to say that Iran has experienced tragic events during last 7 months including Kermanshah quake which claimed 620 lives, affecting 7 cities and 1,950 rural areas on November 12, 2017.
He also touched on the measures taken by the Iranian society for the quake-hit victims.
Iran's Red Crescent Society is active in 14 countries, providing health care services to the underprivileged, he added.
It is planned to hold a conference regarding "peace and friendship" by the next 6 months in Tehran, he said, adding that Iran expects to receive support of the federation in this regard.
MAH/MQ/MG