Tehran hosts Indian Ocean Naval Symposium
April 23, 2018 - 19:46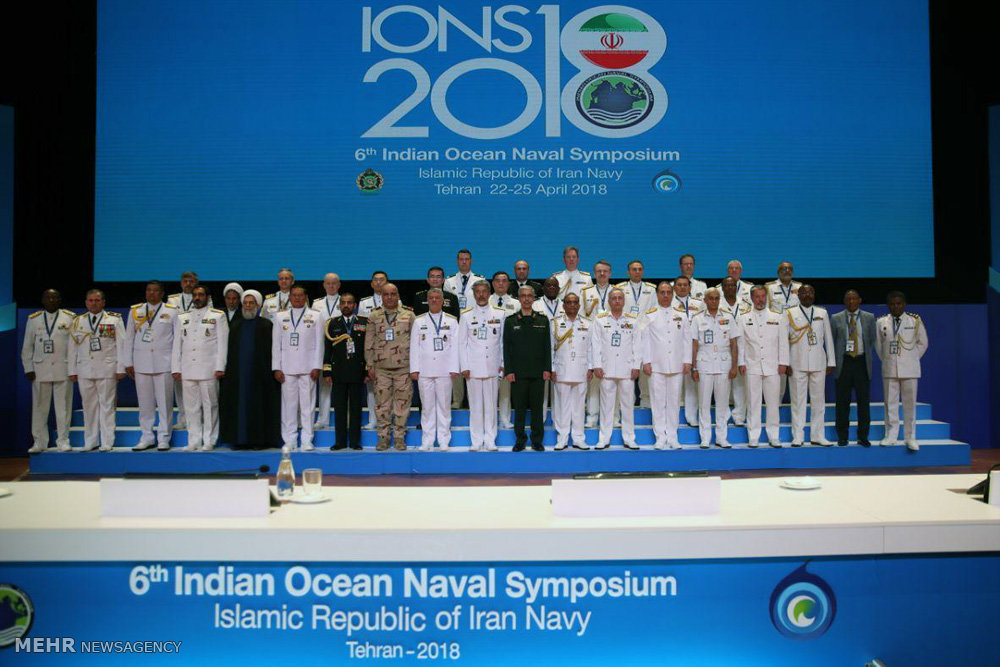 TEHRAN – The sixth Indian Ocean Naval Symposium (IONS) opened in Tehran on Monday.
Senior military delegations from 35 countries are participating in the conference which will run until Tuesday, April 24. It is the greatest military conference hosted by the Iranian Navy.
The Iranian Navy is the host of the conference. During the conference, Iran officially assumes presidency of the symposium for two years.
General Mohammad Hossein Baqeri, chief of Iran's armed forces, was the first lecturer of the conference.
Baqeri said the U.S. and certain other countries deploy military units in the Persian Gulf, Indian Ocean, Mediterranean Sea and other regions and use "language of force", impose sanctions and level accusations against others and spread chaos and anarchism.
To back up his words, Baqeri described the U.S.-led airstrikes on Syria as a clear example of "illegal behavior".
The U.S., UK and France fired about 100 missiles at Syria on April 14. The attack took place one week after a suspected chemical weapons attack in the Syrian town of Douma near Damascus. The attackers claimed the Syrian government was responsible for the attack. However, the government rejected the claim.
Baqeri criticized arrogant powers for waging war in West Asia to sell their arms.
"They lay the ground to wage war through exporting weaponry to various countries in the region," Baqeri remarked.
The U.S. and Britain are the chief arms exporters to Saudi Arabia which has launched a war on Yemen.
Baqeri added, "The U.S. has caused crisis in most parts of the West Asian region through creating and supporting terrorist and extremist groups such as Daesh."
The general also said U.S. policies have led to death and displacement of "millions of innocent people".
Elsewhere in his remarks, he said that Iran, as an independent country, will never give in to the U.S. and its regional allies' excessive demands.
'Iran extending hand of friendship to the world'
The military chief added Iran has always relied on its national capacities and has "extended the hand of friendship and brotherhood" to the world.
He also said Iran has been forerunner in fighting terrorism and has helped regional stability along with Russia.
'Military exercises will continue to upgrade security in Indian Ocean'
Talking to reporters on the sidelines of the conference, Baqeri said countries member to IONS will joint military exercises to upgrade security in the Indian Ocean.
"We will follow on drills in order to witness more security in the Indian Ocean and nearby seas," the Iranian general noted.
The Indian Ocean's littoral states should be show more coordination to prevent hegemonic powers to take the security of the region into their own hands.
He also said during Iran's presidency of the organization different sessions will be held to share views on how to promote security in the Indian Ocean region.
NA/PA