'Debating championships set the scene to achieve national unity'
May 11, 2018 - 20:45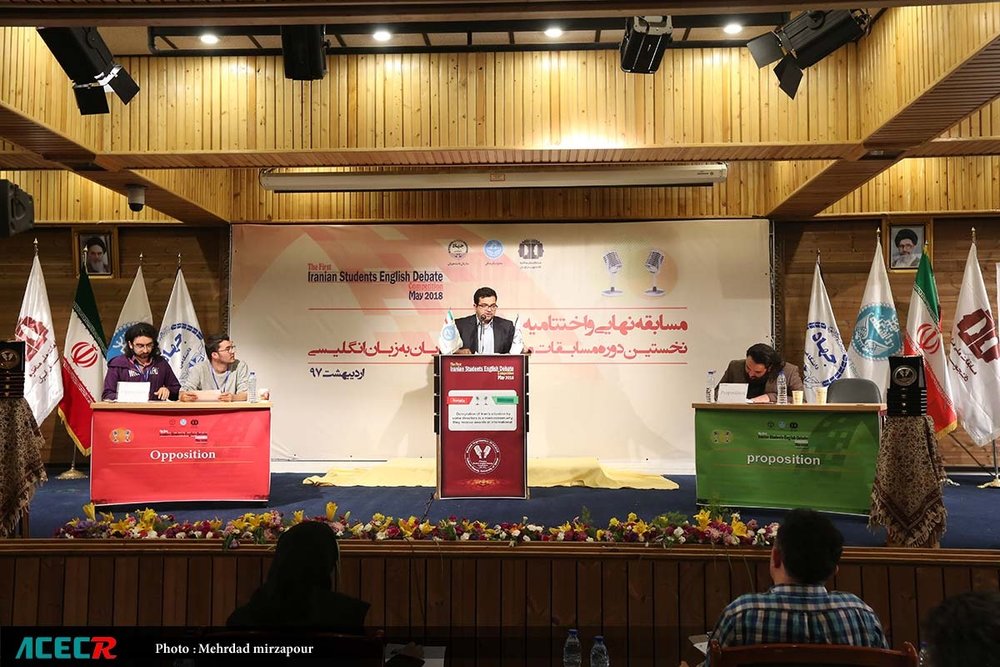 TEHRAN — "Debating championships teach us how to negotiate and achieve national unity," head of University of Tehran's academic center for education, culture and research, called Jahad Daneshgahi, said on Wednesday.
Alireza Tayyebi made the remarks over the closing ceremony of the first edition of English-speaking universities debating championship held on Wednesday here in Tehran with 8 teams from University of Tehran, universities of Shahid Beheshti, Imam Sadeq, Payam Noor of Ardebil, Shahid Madani, and Mohaghegh Ardebili.
"In many cases of practicing international diplomacy we face challenges and cannot safeguard our national interest as we are not capable of achieving political unity in the country," Tayyebi regretted
"We have a lot to say in international arena and holding English-speaking universities debating championship is a step to explain ourselves," he suggested.
In Iran we are not capable of devising and implementing long term plans, and short term plans won't serve our purposes, he said, adding, such championships may be instrumental in improving national unity through creating a culture of negotiation.
Mahmoud Nili Ahmadabadi, chancellor of University of Tehran, for his part, deemed the championships as a means of increasing interactions with the world.
The university is tasked with teaching the students skills to think critically, solve problems, communicate with others, and innovate, Nili explained.
Masoumeh Ebtekar, vice president for women's and family affairs, who was a special guest attending the closing ceremony of the event underscored the importance of negotiations to reconcile the differences and defend our Islamic, cultural, and social values.
Ebtekar went on to say that it is of great importance for the students to try to carve to a high degree of English proficiency so that they not only can defend the Islamic Republic of Iran but also fully comprehend others in negotiations.
"Unfortunately we are not capable of negotiating in Iran and we should address the shortcomings at schools," she suggested.
In a collaborative effort between the cultural affairs department of University of Tehran and the university's academic center for education, culture and research, the first round of national English-speaking debating championships was held on May 7-8 as a primary step to prepare students to take part in international competitions.
MQ/MG