By Maryam Qarehgozlou
Iranian students to get prepared for world debating championships
May 6, 2018 - 13:47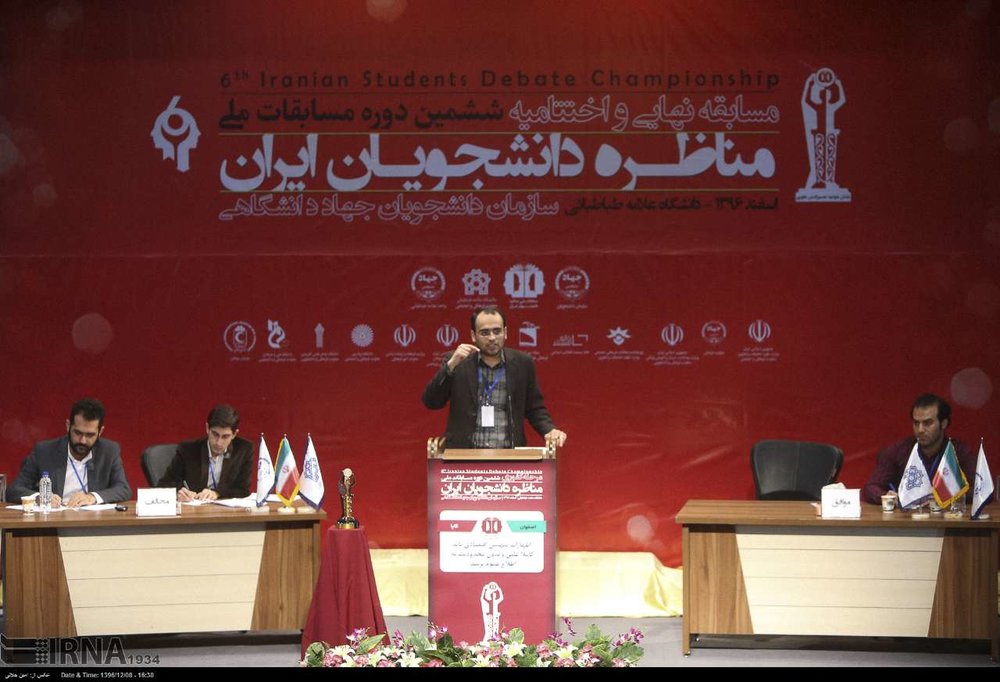 TEHRAN — In a collaborative effort between the cultural affairs department of University of Tehran and the university's academic center for education, culture and research, called Jahad Daneshgahi, the first round of national English-speaking debating championships will be held to prepare students to take part in international competitions.
The first English-speaking universities debating championship is a huge and essential step to lay the groundwork for the Iranian university students to partake in world debating championships, Majid Sarsangi, director of the cultural affairs department of University of Tehran said on Sunday.
"The competitions will also open up opportunities for students to extensively and intensively study, encourage teamwork, and more significantly train students to resolve disputes by negotiating rather than quarrelling," Sarsangi noted.
Issa Alizadeh, Jahad Daneshgahi's director for cultural affairs, for his part, said that the national Persian-speaking universities debating championship has been held for six years. "Two years ago we decided to plan the English-speaking debating competitions in order to facilitate students' participation in international championships."
"We are doing the spadework to also host one of the world debating championships in the near future," Alizadeh said, however, he didn't provide any further details on the countries they are planning to invite or the championships they want to host.
Mahdi Kazemi, head of the student organization of Jahad Daneshgahi, also explained that the debating championships held in Iran are similar to international competitions to some extent, but they are modified to suit Iran's cultural and religious context.
The first edition of English-speaking universities debating championship will be held on Tuesday and Wednesday here in Tehran with 8 teams from University of Tehran, universities of Shahid Beheshti, Imam Sadeq, Payam Noor of Ardebil, Shahid Madani, and Mohaghegh Ardebili.
World Universities Debating Championship
The World Universities Debating Championship (WUDC) is the largest English-speaking debate competition worldwide.
The WUDC has been held annually since 1981. Every year the WUDC takes place in a different country and is hosted by a different university and by different debate societies. The tournament gathers students from prestigious universities around the globe, featuring over 400 teams from around 90 countries.
The tournament lasts a week filled with the best level of debate rounds in the world. The debates employ the British Parliamentary (BP) format in which four teams compete against each other on two opposite positions on a given motion, which is announced fifteen minutes before every debate. The competition is run in nine rounds under a Swiss-system where teams of a similar level face off against each other, until the best forty-eight break to the direct elimination rounds. The best English-as-a-Second-Language (ESL) and English-as-a-Foreign-Language (EFL) teams enter their own elimination rounds.

MQ/MG