By Manijeh Rezapoor
Artists cite concern on environmental issues at "Habitat"
June 22, 2018
TEHRAN – A group of Iranian artists share environmental concerns in "Habitat", an exhibition underway at Tehran's Vista Gallery.
Curator Setareh Hosseini chose Parisa Aslankhani, Mahnaz Pasikhani, Ebrahim Hassanzadeh Dizaji, Atefeh Khas, Maryam Zargar, Leila Refahi, Reyhaneh Savari, Maryam Toluei, Saba Arabshahi, Mohammad-Ali Adili, Mina Abdus, Esmat Alirezai, Parvaneh Qesmati Motlaq, Leila Gudarzi and Ali Nurpur to work on the "Habitat" project.
"The artworks, including a collection of paintings and two sculptures, depict the artists' studies and reflect the negative and partly positive effects of environmental issues such as the global warming, air pollution, urban sprawl, waste disposal, water pollution, climate change and many more," Hosseini told the Tehran Times.
"The lethal effect of dust particles on the skin causing a type of skin cancer is portrayed in one painting, while another painting highlights the negative effect of pollution causing Alzheimer's," she said.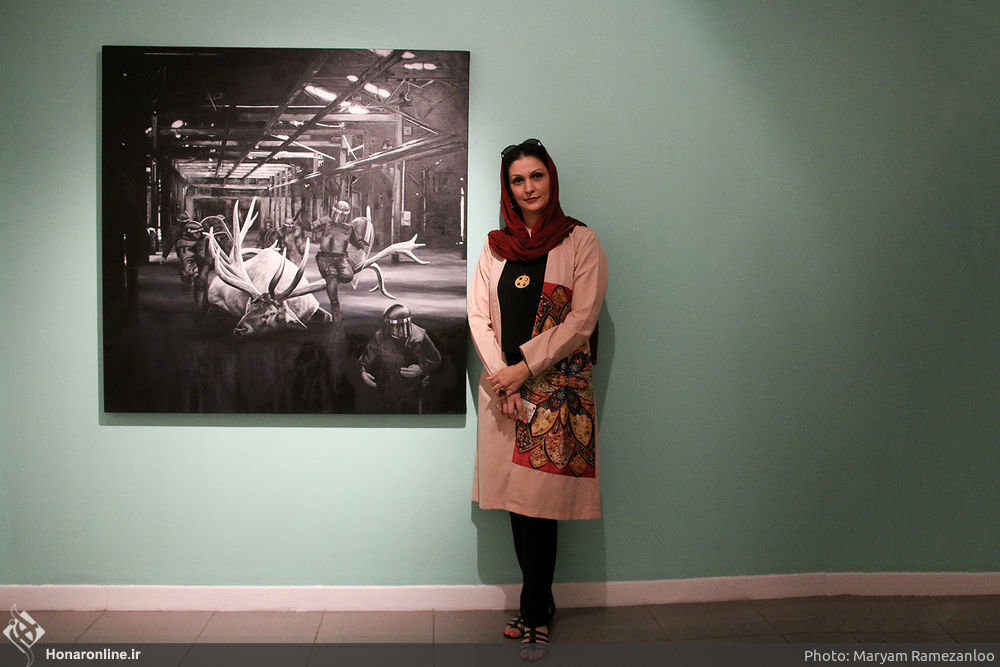 Curator Setareh Hosseini poses at the exhibition of "Habitat" at Tehran's Vista Gallery on June 17, 2018. (Honaronline/Maryam Ramezanlu)
A number of artworks also reflect the repercussions that the air pollution has had for the lives of future generations.
"Today environmental pollution is a global issue, it is not just limited to Iran, and many artists feel a responsibility to mirror the problem in the best way that they can," said Hosseini who is a painter and video artist who teaches at Sureh University in Tehran.
"However, I believe we can disseminate information more widely through media. We as artists cannot do more than display works in a gallery with its limitations and particular visitors. Larger organizations should take action and inform people, and art can only help," she added.
She continued, "We all know that art is a global language, and environmental action is a new concern in the world. However, it must not be just relegated to a confined space like a gallery."
For example, she said that the municipality can bring together artists who have concentrated on environmental action and promote this topic across the city.
She pointed to Tehran Municipality's project "A Gallery as Large as a City" that displayed copies of works from famous artists on billboards across the city in spring 2016 and said similar actions can raise public awareness of environmental issues.
"Other minor activities like publishing posters on environmental issues, to include ensuring the long-term health and well-being of all earth's inhabitants, can also be helpful," she said.
The exhibit also considers the positive factors in the environment.
"For example, the positive effect of the microbes on the body has been studied and painted by one of the artists. The artist studied a specific type of microbe for seven or eight months in a laboratory, and later the microbe and its positive effects were represented in a series of paintings on show," Hosseini said.
Elsewhere, she stressed that, although the environmental action is a new trend in the world, it could be more influential when studies and research works are added.
"A drawing of animals does not necessarily make it an environmental artwork. If the artist has not carried out research or has not studied it, the artwork cannot be realistic. In this exhibit, all the individual artists who were selected have done their studies that were actually in line with all their works. Some of them were invited later and joined us later, but they all had their own concerns and had conducted academic studies in advance," she explained.
She said that the exhibition concentrates on Iran's environment and the artists have created the artworks based on their own personal concerns.
Hosseini next said that she is planning to continue with additional exhibits on the same topic but on a larger scale.
"We mainly process the feedback on the exhibition in our country. We believe we need to be influential in our own country first. We must try to make more efforts in our country. Joining environmental concerns and studies together is difficult. However, this exhibit should help find ways to provide education about these activities," she concluded.
The showcase will run until June 25 at the gallery located at No. 11, 12th Alley, Mir Emad St.
Photo: People visit the "Habitat" exhibition at Tehran's Vista Gallery on June 17, 2018. (Honaronline/Maryam Ramezanlu)
RM/MMS/YAW