By: Syed Zafar Mehdi
The difficulty of being a Muslim in BJP-ruled India today
July 10, 2018 - 10:28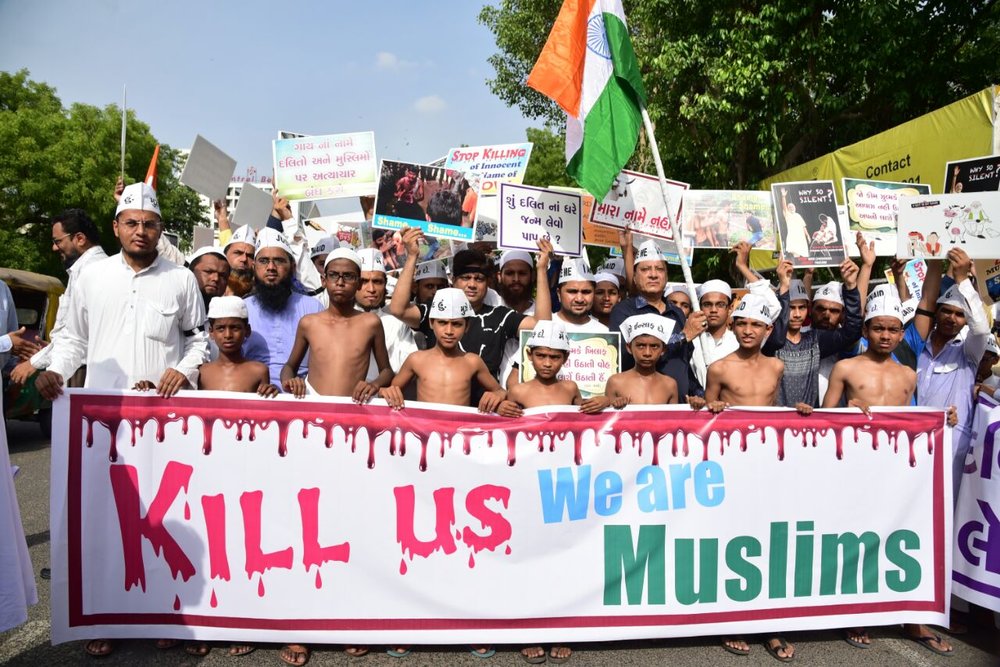 When the ruling party organizes an event to felicitate a group of criminals convicted in a lynching case and a senior union minister goes to meet and garland them, you should understand that something is terribly wrong.
The eight Hindu men, convicted by a lower court in eastern Indian state of Jharkhand of lynching to death a Muslim man named Alimuddin Ansari on June 29 last year, were granted bail by a higher court this week. Ansari was lynched on the suspicion that he was transporting beef in his vehicle, which was set ablaze by the group. Instead of condemning their release, Bhartiya Janta Party (BJP), which is ruling the country presently, decided to felicitate the convicts.
While BJP workers are shamelessly celebrating the bail of convicted Hindu men, Ansari's family and friends are crestfallen. His wife Maryam Khatun has vowed to move the apex court against the bail order.
Due to the rabid communalization of politics in India, hate crimes against religious minorities have sharply and alarmingly increased in recent years, making it difficult to be a Muslim or a Christian in the largest democracy today.
According to India Spend, a data-driven, public-interest news website, no incidents of hate crime were reported in the country in 2010 and 2011, but since 2012, a total of 29 people have been killed in hate violence, 25 of them Muslims. Most of these incidents have occurred over the last four years since the Narendra Modi-led BJP government assumed power in May 2014.
Vigilante mobs, mostly belonging to radical Hindu outfits, who identify themselves as 'Gaw Rakshaks' (cow protectors), have been going on rampage in different parts of India, lynching people who are seen eating or carrying beef. While half of the attacks since 2012 were on Muslims, nearly 86 percent people killed were Muslims, according to India Spend data. So, if the victim turns out to be a Muslim, there is more likelihood of him getting killed.
Earlier, the attacks were mostly reported from north India, but the current spate of hate crimes, including lynching, suggest that the targeted community is not safe anywhere anymore. They are attacked inside homes, in markets, in trains, at workplaces, which has created a fear psychosis among Muslims in India, who consider themselves increasingly vulnerable to hate attacks. And that is exactly what the radical Hindu groups in India want.
After a video of a Hindu man slapping a Muslim man more than 25 times, asking him to chant Hindu religious mantra 'Jai Shri Ram', a BJP parliamentarian Vinay Katiyar told media persons in New Delhi that Muslims had no business being in India and should go to Pakistan or Bangladesh. He was parroting the same line that has been said by many BJP leaders in the past.
It is the same message these venom-spewing, hate-filled Hindutva goons sought to communicate when they abducted a young Muslim man Mohammad Bhatta Sheikh in northern Indian state of Rajasthan on December 3, 2017, hacked him with a pickaxe and burned him alive. Or when 15-year-old Junaid was ambushed by a group of Hindu men on a Haryana-bound train on June 22, 2017, derided for eating beef, slapped, kicked and stabbed to death.
India's former vice president Hamid Ansari, commenting on Junaid's murder, admitted that a "feeling of unease and a sense of insecurity" was creeping among Muslims in India.
In another chilling case of hate crime, 8-year-old Muslim girl Asifa Bano from Jammu & Kashmir was brutally raped and murdered inside a temple in January this year. It drew tremendous anger and outrage across the world but that did not deter the BJP politicians from defending the accused and rallying in their support.
Although the Indian Penal Code (IPC) has provisions that criminalize the promotion of enmity between groups on grounds of religion, race and place of birth, but there is poor implementation of such provisions, especially when law enforcement agencies are complicit in it.
However, after the brutal killing of Mohammad Akhlaq in 2015, a Muslim resident of northern state of Uttar Pradesh, who was killed in his home by a Hindu mob 'for eating beef', media coverage has significantly increased. Human rights groups have also started documented hate crimes resulting from what many call 'Hindutva terrorism'. Amnesty International runs a website 'Halt the Hate' to track hate related crimes in India. According to the website, there was an alarming rise in hate crimes – including assault, rape and murder – against people from marginalized groups, especially Dalits and Muslims, in 2017.
"BJP's campaign for cow protection appears to have emboldened vigilante groups, who seem to be operating in some cases with the tacit approval of state authorities. BJP leaders have ignored, or worse, even justified the attacks at times," said Aakar Patel, head of Amnesty International India.
So, it eventually boils down to the political will, which is clearly missing. That makes it difficult to be a minority, to be a Muslim, in the BJP-ruled India today.