Regional states able to settle disputes through consultation: Larijani
July 10, 2018 - 10:17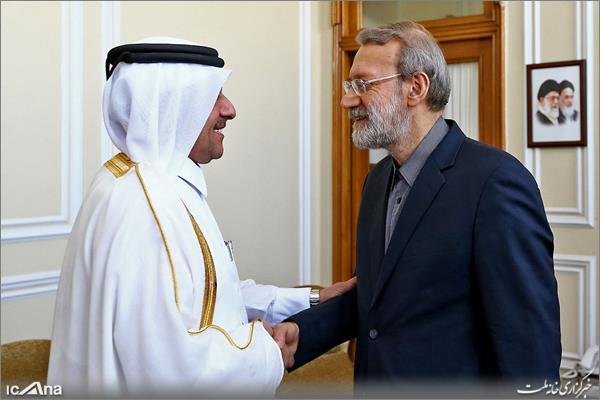 TEHRAN - Iranian Majlis Speaker Ali Larijani said on Sunday that there is no need for interference of foreigners in the affairs of countries in the Middle East.
"Extra-regional powers should not be permitted to interfere and trouble governments and people with their plots," he said during a meeting with Ali Bin Hamad Bin Ali Al-Sulaiti, the Qatari ambassador to Tehran.
Larijani said that regional crises can be settled through consultation.
He described the Saudi-led siege of Qatar as a "wrong action".
For his part, the ambassador praised Iran's timely help when Qatar was blockaded.
In June 2017 Saudi Arabia and the UAE launched a land, sea and air blockade of Qatar under the pretext of Doha's support for terrorism.
Following the decision, Egypt, Bahrain and Maldives also severed ties with Qatar and banned their airspace to the country.
The blockade left Qatar only with a sea and air corridor with Iran. This happened immediately after Donald Trump's visit to Riyadh.
To stop boycotting Qatar, the Arab countries issued 13 demands including curbing relations with Iran.
Writing an article in New York Times on June 5, Qatari Foreign Minister Mohammed Bin Abdulrahman Al-Thani said that the act of blockading Qatar is pursuing "petty grievances and selfish ambitions".
"Today, Qatar is stronger than it was a year ago. Within 24 hours of the imposition of the blockade, we quickly established new sources and alternate, more sustainable supply routes for basic goods, like food and medicine," he wrote
NA/PA