EU activates law on protecting trade with Iran: Mogherini
July 17, 2018 - 18:47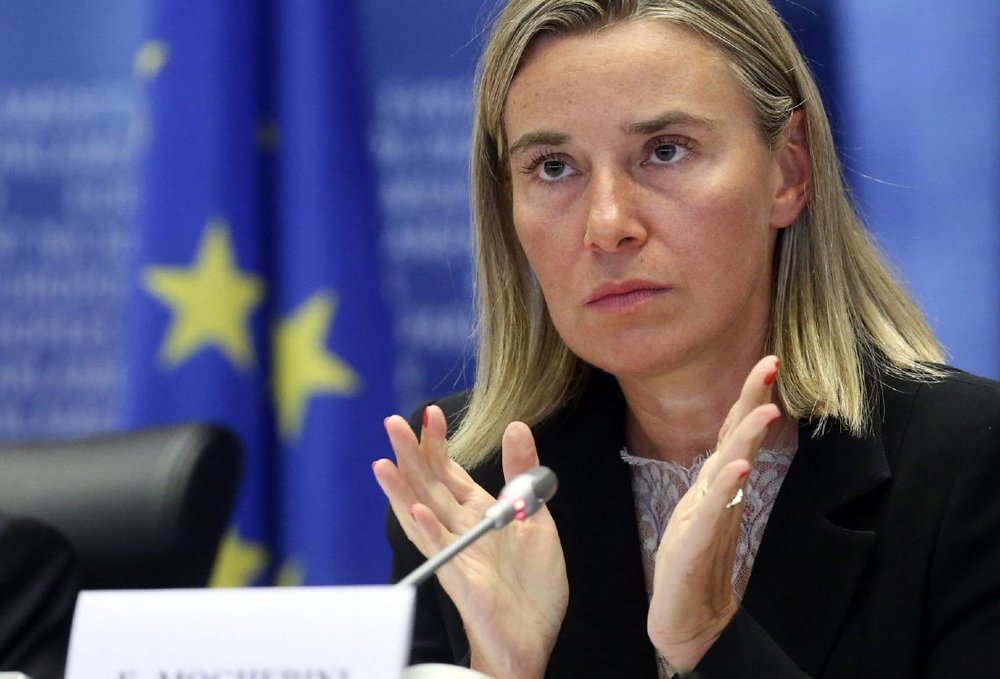 European countries have activated a blocking statute that prohibits companies from complying with U.S. sanctions on Iran, EU foreign policy chief Federica Mogherini said on Monday.
"Today, the European Council has endorsed the update of the blocking statute annex on the nuclear deal with Iran," Mogherini told reporters in Brussels at a meeting with EU foreign ministers.
A blocking statute is a law enacted in 1996 to protect European entities "against the effects of the extra-territorial application of legislation adopted by a third country."
The bloc should have updated the law to include U.S. sanctions on Iran, requiring consent from the EU's 28 member states.
Mogherini said the European Parliament gave its go-ahead to the statute two weeks ago, providing companies legal cover to operate in Iran.
The law is due to go into effect on August 6, when the first set of U.S. sanctions against Iran kicks in. The statute will allow firms to recover damages from American measures and nullify any court ruling against them.
The measure is the first practical step taken by the Europeans to persuade Iran to remain in the 2015 nuclear deal after Washington's withdrawal and its plan to reimpose sanctions on the Islamic Republic.
European officials were also quoted as saying that France, Britain and Germany were trying to activate accounts for the Iranian central bank with their central banks in order to open financial channels with the country.
Other European governments, including Austria and Sweden, have also said they would consider doing likewise, the Wall Street Journal reported.
Tehran has long complained that European banks' refusal to process Iran-related transactions is hindering companies from trade with the Islamic Republic.
While discussions with the related central banks have started, they have not bought into the option yet, the Journal reported.
Under pressure from the United States, the European Investment Bank (EIB) has already balked at the EU proposal to do business in Iran.
EU diplomats, officials and sources at the bank have said the plan would imperil EIB's multi-billion-dollar funding, the balk of which is rooted in the U.S.
Washington is also reportedly lobbying European banks in back channels to object to the plan, warning them of consequences if they invest in Iran.
On Monday, Mogherini implicitly admitted U.S. pressures, saying European governments had an uphill task to persuade firms to trade with Iran.
"It is a difficult exercise, because the weight of the U.S. in the global economy and the financial system is obviously relevant," she said.
Germany, France and the UK, as well as their EU counterparts reportedly lodged requests with the U.S. administration last month, seeking exemptions from sanctions for trade with Iran.
Washington, however, rebuffed the high-level European plea, the Financial Times reported on Monday.
A number of European companies such as French oil group Total and carmaker PSA have already announced their plans to wind down business in Iran.
Mogherini said while the Europeans "will continue to do all we can to try and prevent this deal from being dismantled," she was not sure the "efforts are going to be enough."
"It is predictable that many multinational corporations and large European and non-European banks may not be willing to continue economic cooperation with Iran under U.S. pressure and threat," said Massoud Khansari, chairman of Tehran's chamber of commerce.
Last year, Iran signed several credit agreements worth $30 billion with Danish, Italian, Austrian, Chinese, and Korean banks, which are now exposed to U.S. sanctions, he said in remarks published Tuesday.
(Source: Press TV)