Ayatollah Khamenei: Speculation that talks or ties with U.S. would resolve problems is a 'blatant mistake'
July 21, 2018 - 15:16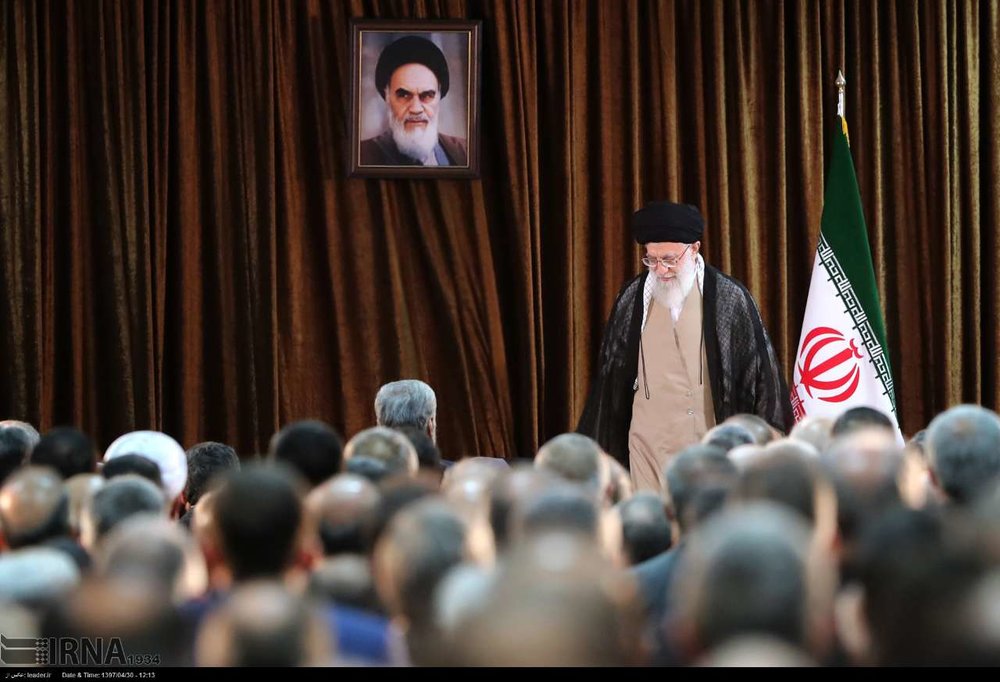 TEHRAN – Leader of the Islamic Revolution Ayatollah Ali Khamenei said on Saturday that such a speculation that negations or relations with the United States would help resolve problems in Iran is a "blatant mistake".
"Our problems with America are not soluble (and) this should be taken note of," Ayatollah Ali Khamenei told an annual meeting of Iranian diplomats.
Ayatollah Khamenei referred to "the existence of a government with a religious background, and Islamic for that matter" as a key factor drawing U.S. hostility toward Iran, saying, "With such matters, our problem with America cannot be resolved at all."
He noted, "The problem of America with the Islamic Republic is an issue of coming back. The Americans want to recreate the status they had before the revolution, before the Islamic Republic. They want that. Well, that is impossible. It is not doable. And they are not happy with anything short of that."
Ayatollah Khamenei says the U.S. is "really untrustworthy and I personally believed this from the olden times.""So, there is no use in negotiations with America. It holds no benefit. The Americans cannot be trusted, which is something now our dear officials are repeatedly insisting upon. Really untrustworthy. And I personally believed in this very issue from the olden times. They are really not trustworthy. One cannot even count on their signature, let alone their word and their verbal promise."
He added that the United States' opposition to Iran's nuclear program and regional presence stems from their "deep enmity with the powerfulness of the Islamic system."
"Regional presence is among the elements of power and security of Iran, and is considered as a strategic backing for the country. This is why enemies are against it."
Elsewhere in his remarks, Ayatollah Khamenei said talks with European countries should not be halted, but added in the meantime that "we should not remain idle waiting for the European package [on the preservation of the nuclear deal]."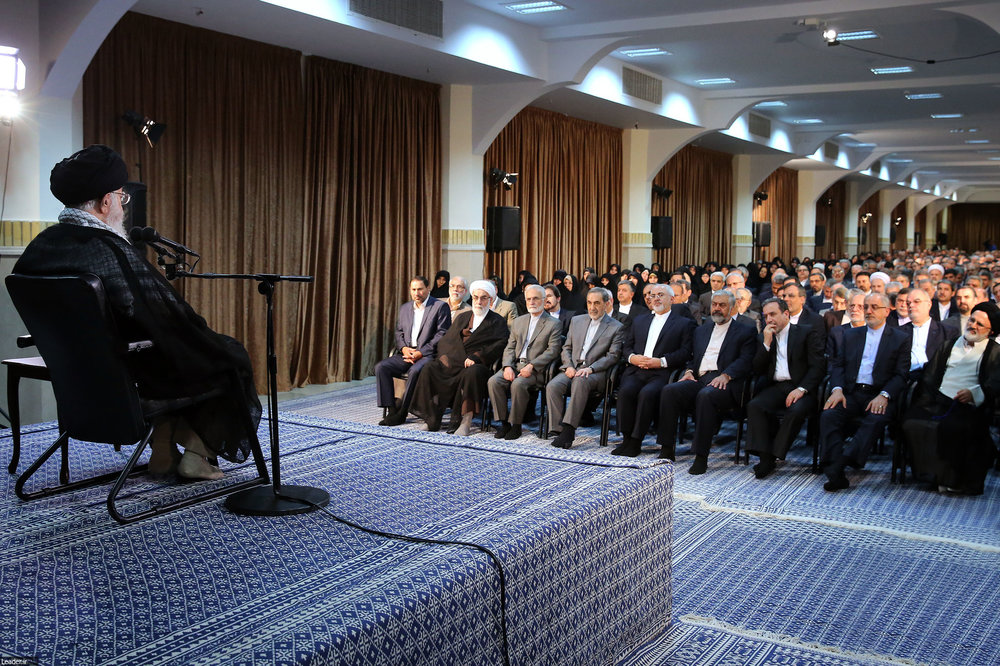 "Instead," the Leader suggested, "we should follow up on necessary activities inside the country (against U.S. sanctions)."
'Iranophobia project has been defeated'
Foreign Minister Mohammad Javad Zarif also spoke at the meeting, saying that Iranophobia, a project of the Zionist regime of Israel, has been defeated by the Leader's guidelines and supports.
"One cannot even count on their signature, let alone their word and their verbal promise.""Trump [U.S. President Donald Trump] and Netanyahu [Prime Minister of Israel Benjamin Netanyahu] are making efforts to repeat the Iranophobia project through disgraceful shows, but today, they are isolated even among their own allies," the chief diplomat noted.
Zarif said, "We have always announced to other countries especially the U.S. allies that countering the U.S. bullying should go beyond political commitments and turn into practical actions."
In regard to the return of sanctions as the Trump administration withdrew the U.S. from the 2015 nuclear agreement in early May, Zarif said, "We have been through more difficult situation and I am sure that we will pass the current situation through unity and the people's supports and also under the Leader's guidelines."
SP/NA/PA