Iran's Khatam win Asian Men's Club Volleyball Championship title
August 6, 2018 - 19:52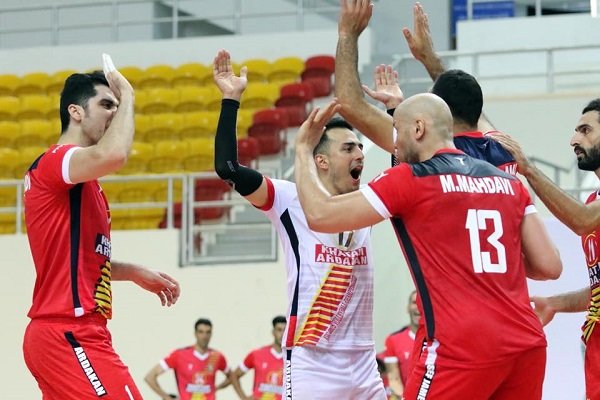 Khatam Ardakan underlined their supremacy over the 2018 Asian Men's Club Volleyball Championship following a hard-fought 29-27 25-23 25-22 victory over Atyrau in the pulsating final showdown on Monday at the Wunna Theikdi Indoor Stadium Hall B to retain the title for Iran three times in succession.
Sarmayeh Bank captured the 2016 and 2017 Asian Men's Club Championship titles in Nay Pyi Taw and Vietnam respectively and Ardakan's victory on Monday, the Iran's 11th title in this top-tier championship, was a warning sign to the Asian volleyball that the Iranians are the powerhouses not to be toppled easily in this championship.
Khatam Ardakan, second to Sarmayeh Bank in the season-ending Iranian Volleyball Super League, fielded a formidable lineup including star spiker Shahram Mahmoudi, who landed the MVP award with consecutive two-time Asian Men's Club champions Sarmayeh Bank, while Atyrau were strengthened by three foreign players, Ukrainians Roman Khandrolin and Oleh Shevchenko and Russian Vasily Nosenko.
Shahram Mahmoudi scored a team-high 18 points for Khatam Ardakan including 17 attacks, while Hamzeh Zarini added 12 points.
Oleh Shevchenko chipped in 10 points for the losing side, asianvolleyball.com reported.
"I'm very happy that my team won the title for the first time here and all credit went to everyone in my team. This championship is our team's first experience. Every team came here to fight for the best result in a competitive competition, not for fun. Although we lost only one set throughout the whole tournament, I find it very difficult for my team to play in this championship since all participating teams are strong," Khatam Ardakan head coach Abbasali Mirhosseini commented after the final match.
As Ardakan stamped their authority over the championship, Atyrau finished second place, their best performance ever. The Kazakh side finished third twice in 2002 and 2004.