Taliban and Afghan forces fight for control over Afghanistan's strategic city
August 14, 2018 - 11:11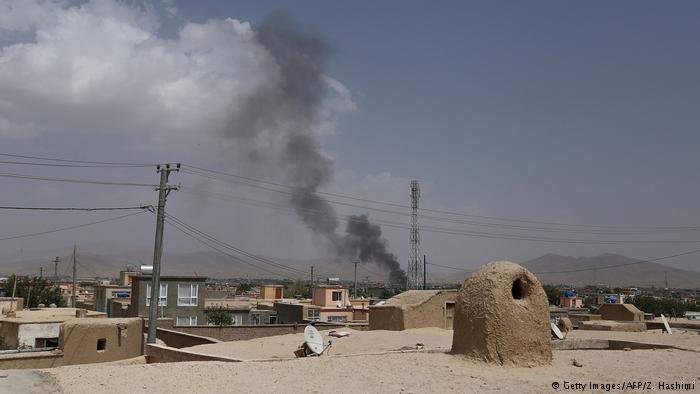 TEHRAN - Four days after the intense fighting between the Taliban and Afghan government forces in the strategic southeastern city of Ghazni, more than 200 Afghan police officers and soldiers have been killed so far. Hospitals are packed with wounded civilians, including women and children, and roads on the city outskirts have been reportedly manned by the Taliban to prevent the arrival of military reinforcements.
While the Afghan government officials, backed by the U.S. military officials stationed in Afghanistan, claim that the government forces maintain control over the city, reports coming from inside the city present an entirely different narrative. The city appears to have fallen to the Taliban. And the fighting rages on between the two sides.
Local provincial council members and lawmakers have been quoted by media outlets saying that the Taliban fighters had taken control of key government buildings, including the police headquarters and provincial offices. Mohammad Arif Shahjahan, an MP from Ghazni, was quoted saying that the Taliban assault had failed despite government and U.S. military assurances.
Taliban militants launched the coordinated assault on Ghazni early on Friday in an attempt to establish a base in a strategically important city, which connects Kabul with Kandahar. In perhaps the most serious challenge to the fledgling Ashraf Ghani government in Kabul, it comes a few days after the talks between the U.S. officials and the Taliban in Doha.
Taken aback by the unprecedented assault, President Ghani's spokesman Haroon Chakhansuri said on Monday that the President held an emergency meeting on Sunday night and was briefed on the Ghazni situation by the provincial governor, military chiefs and the head of the intelligence agency.
Chakhansuri said Ghani had ordered more troops to be sent to Ghazni, to repel the attack. But, latest reports trickling out of the city indicate that there was still a heavy presence of Taliban fighters and they maintained control over key government installations.
Hundreds of families have reportedly fled the city, although the escape can be risky as the Taliban fighters have reportedly manned roads that lead to city outskirts. They have also reportedly set ablaze election commission offices and a government fuel station in the city.
On Sunday evening, Tolo News reported, a convoy of military vehicles coming from Paktia province and heading for Ghazni city came under attack in neighboring Maidan Wardak province. The ambush happened about 80km from Ghazni city. The report said foreign fighters, including Pakistanis and Chechens, were involved in the battle for Ghazni.
Communication lines have been down as the Taliban fighters have reportedly damaged telecom towers, making it difficult for people to contact their relatives and friends in Ghazni. It has also become difficult to get the news about what is exactly happening in the city. "My family is there and I am extremely worried for them, I don't know in which condition they are right now," said Mohamamd Rezai, a resident from Ghazni who studies in Tehran.