Iran unveils new missile able to penetrate anti-missile defense shields
August 13, 2018 - 20:52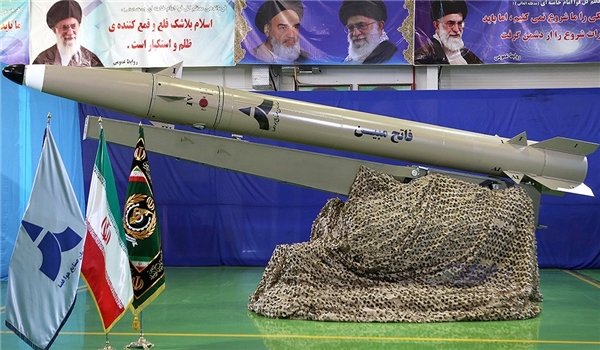 TEHRAN – Iran unveiled on Monday a new generation of home-made pin-pointing missile named "Fateh Mobin".
The radar-evading, tactical and pin-pointing missile is equipped with an advanced and smart explorer and is also capable of penetrating anti-missile defense shields.
During his speech at the ceremony, Defense Minister Brigadier General Amir Hatami said that Iran is firm to boost its deterrent missile and defense capabilities.
"We will be able to protect peace and stability through having a powerful defense industry and today enemies are well aware of the Islamic Republic of Iran's defense power," he stated.
He described defense power as the main instrument of national independence which also guarantees the Islamic Republic's security and stability.
The defense chief also dismissed commotion created over Iran's missile program by the West. "What is said about the Islamic Republic's defense power is a worthless and unfounded claim and a clear interference."
Hatami added, "The great Iranian nation will not let any foreign power to interfere in defense and military affairs of the country."
According to Fars news agency, a command-and-control system was also unveiled which is capable of transmitting voice, image and data in encoded data.
NA/PA