By staff and agency
China says to continue to advance ties with Iran
August 18, 2018 - 21:39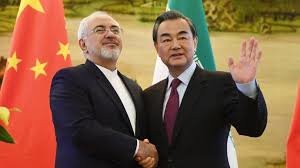 Chinese Foreign Minister Wang Yi said on Friday that Beijing values its relations with Iran and is willing to continue to advance mutually beneficial cooperation according to the development of the situation.
According to Xinhua, in a phone conversation with Iranian Foreign Minister Mohammad Javad Zarif, Wang said that the 2015 nuclear deal, known as the Joint Comprehensive Plan of Action, is an important achievement of multilateralism in line with the common interest of the international community.
Adhering to the nuclear deal also conforms to the fundamental interests of Iran, he said.
"We have openly indicated that we oppose the wrong practices of unilateral sanctions and 'long-arm jurisdiction' in international relations," he noted.
For his part, Zarif said that Iran is willing to strengthen coordination with the related parties, including China, and properly tackle the new situation on the nuclear issue.
U.S. President Donald Trump withdrew Washington from the nuclear deal on May 8 and ordered restoration of sanctions against Iran.
The first batch of sanctions was snapped back on Monday, August 6. The second batch will be restored on November 4.
CNBC reported on August 8 that China condemned the measures reinstated against Tehran and urged oil and gas firms to reject calls for them to completely cut off from Iranian crude.
"China's commercial cooperation with Iran is open and transparent, reasonable, fair and lawful, not violating any United Nations Security Council resolutions," China's Foreign Ministry said.
NA/PA