Sohrab Moradi breaks weightlifting's oldest world record at Asian Games
August 25, 2018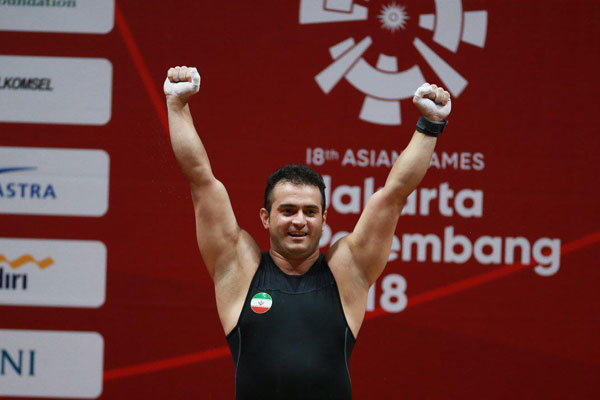 TEHRAN - Sohrab Moradi of Iran broke weightlifting's longest standing world record on his way to gold in the men's 94kg class at the Asian Games on Saturday.
Moradi lifted 189kg in the opening discipline to better the snatch record set at 188kg in 1999 by Greece's Akakios Kakiasvilis.
The Rio Olympics gold medalist now has a complete set of world records. He already owned the marks for the clean and jerk (233kg) and total weight (417kg) in the men's light heavyweight division.
He went on to lift a new Asian Games record total of 410kg after a clean and jerk of 221kg.
Moradi just failed with an attempt at 234kg which would have bettered his own world records for the clean and jerk and total lifts.
Fares Elbakh took silver for Qatar's first weightlifting medal of the Games, and Thailand's Sumpradit Sarat won the bronze.
Iran had previously won 12 gold medals in the Games.
Freestyle wrestlers Hassan Yazdani (86kg), Alireza Karimi (97kg) and Parviz Hadi (125kg) had also snatched three gold medals.
Greco-Roman wrestlers Mohammadali Geraei and Hossein Nouri won two gold medals in the 77kg and 87kg.
Taekwondo practitioner Saeid Rajabi also claimed a gold medal in the 80kg.
Mirhashem Hosseini also won a gold medal in the 63kg.
Erfan Ahangarian bagged a gold medal in wushu after defeating Wang Xuetao from China 2-1 in the final match of the Men's Sanda -60kg.
Another wushu practitioner Mohsen Mohammadseifi claimed his third successive gold medal in the Asian Games after beating his Chinese rival Shi Zhanwei 2-0.
Climber Reza Alipour also gained Iran's third gold medal on Day 5.
Wome's and men's kabaddi teams won two gold medals in the Games.
The 18th Asian Games stage 465 events out of 40 sports, among which 330 events from 32 sports will feature in the 2020 Tokyo Olympics.
The Games, attracting more than 10,000 athletes, will run through Sept. 2.
Reporting by Masoud Hossein