"No Date" scoops awards at Iran Cinema Celebration
September 2, 2018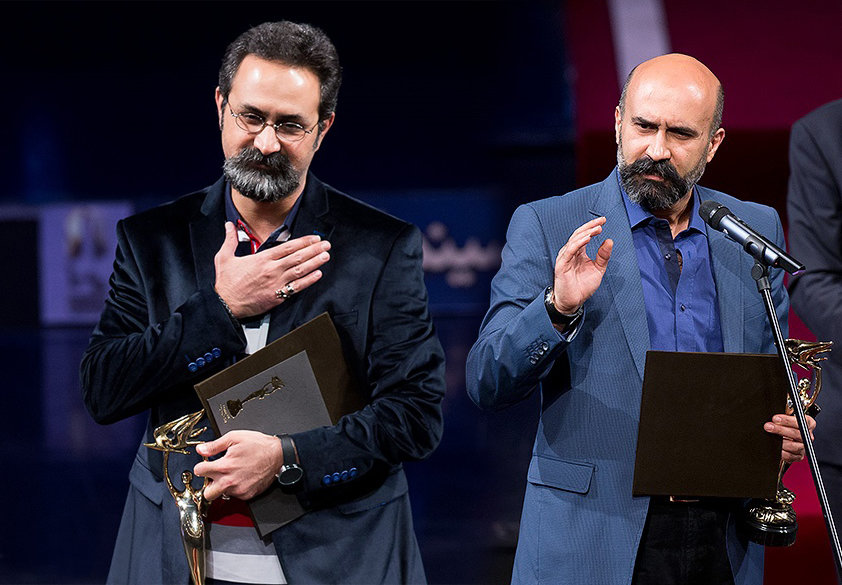 TEHRAN – After repeated victories at various international events, the Jalilvand brothers' drama "No Date, No Signature" enjoyed a big success at home during the 20th Iran Cinema Celebration on Saturday by winning awards in five categories including best film and best director.
"Each award has its own special value, but it's more impressive when the members of your family say that they have liked your film," producer Ali Jalilvand said after accepting the award for best film at the celebration held at Tehran's Vahdat Hall.
The film is about Dr. Nariman, a forensic pathologist who has a car accident with a motorcyclist and injures his 8-year-old son. He offers to take the child to a clinic nearby, but the father refuses his help and money. The next morning, in the hospital where he works, Dr. Nariman finds out that the little boy has been brought for an autopsy after a suspicious death.
Jalilvand pointed to some remarks by writer Seyyed Mehdi Shojaei, in which he warned about a society with ideals in Iran and asked his fellow cineastes to depict the issue in their movies, and said "I feel that our cinema has fulfilled its duty, but officials do not see that the cinema warned about various issues earlier," he added.
Vahid Jalilvand who is also the co-writer of the screenplay for "No Date, No Signature" received the awards for best director and best screenwriter. Ali Zarnegar collaborated with him in writing the screenplay.
The film also brought Zakieh Behbahani and Navid Mohammadzadeh the awards for best supporting actress and best supporting actor respectively.
Hamed Behdad was selected as best actor for his role in "Blockage" by director Mohsen Qarai. In his acceptance speech, Behdad criticized the government over arresting a number of Iranian environmental activists.
"Iran is the dearest and most important thing we have," he noted and asked the government, "Why do you punish the environmental activists? This land is the only thing we have; show mercy," he said

"Those people who do not allow us to try for building our country are traitors," he noted.
The award for best actress went to Ghazal Shakerdoost for her role in director Maziar Miri's "Sara and Ayda".
"Pedovore" by Mohammad Kart was picked as best short film while "Run, Run Rustam" by Hassan Molayemi was named best animated film.
The award for best documentary director was presented to Orod Atapur for "Persepolis-Chicago", which is Iran's Achaemenid tablets loaned to the Oriental Institute of the University of Chicago in 1937 for study.
The award for best documentary went to "Finding Farideh" co-directed by Azadeh Musavi and Kurosh Atai. The film is about Farideh, an Iranian woman who was adopted by a Dutch family during her childhood in a Tehran orphanage. In this film, she wants Iranians to help her find her real parents.
Masud Salami won the award for best director of cinematography for his collaboration in director Fereidun Jeirani's drama "Asphyxia" while Ahmad Moradpur received the best editor award for his collaboration in "Sara and Ayda".
The Iranian House of Cinema organizes the celebration every year to commemorate Iran's National Day of Cinema, which is September 12 this year. However, the celebration was held earlier due to the mourning season of Muharram in the country.
Earlier in July, the organizers also announced that the celebration would be held without any party afterwards due to the current economic climate in the country.
Photo: This combination photo shows the Jalilvand brothers Vahid (L) and Ali after accepting the awards for best director and best film for their drama "No Date, No Signature" during the 20th Iran Cinema Celebration at Tehran's Vahdat Hall on September 1, 2018. (Fars/Armin Karami)
MMS/YAW