Tehran says U.S. must stop breaking international law
September 15, 2018 - 2:1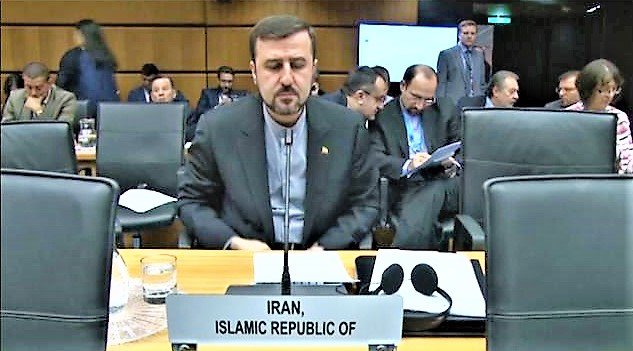 TEHRAN – The Iranian ambassador to the International Atomic Energy Agency (IAEA) has said the Islamic Republic expects the international community to force the U.S. to put an end to its practice of violating international rights.
"It is expected that the international community does not allow the US to continue with its illegal and unilateral measures and to stop the country's practice of violating international rights," Kazem Gharibabadi said on Wednesday as he addressed the September meeting of the IAEA Board of Governors.
He said that the latest report of IAEA Director General Yukiya Amano that confirmed Iran's compliance with its commitments under the 2015 nuclear deal with world powers attested to "transparency" of the country's nuclear program.
"While Iran has been cooperating with the IAEA effectively and based on goodwill, unfortunately we have not fully benefitted from the deal as we should have," Gharibabadi added, according to msn.com.
Under the nuclear deal, officially called the Joint Comprehensive Plan of Action (JCPOA), Iran agreed to scale back its nuclear activities in exchange for termination of economic and financial sanctions.

The envoy said the U.S. "unilateral and illegal exit from the nuclear deal and its re-imposition of unilateral and transnational sanctions that had been lifted after the JCPOA conclusion are the blatant violations of UN Security Council Resolution 2231 and the JCPOA … in defiance of the international community."
In addition to violating the JCPOA, Gharibabadi also hit out at the U.S. for threatening other countries to either bow to Washington's policies or face punitive measures.
He said the JCPOA could survive if all parties to the deal fully and sincerely fulfilled their commitments, stressing "the remaining members of the deal need to take practical and appropriate measures to guarantee Iran benefits from the deal."
"Security Council Resolution 2231 also urges all UN members and regional and international organizations to adopt measures that are necessary to help implement the nuclear deal and to refrain from taking measures that undermine the implementation of their obligations under the JCPOA," he stated.
By breaching its international commitments and taking illegal and unilateral measures, the U.S. government not only tarnishes the credibility of the Security Council but also undermines its own image in the world, the Iranian diplomat concluded.
SP/PA