Cartoonist Derambakhsh's "Owl Land" coming in sight at Tehran exhibit 
October 8, 2018 - 18:33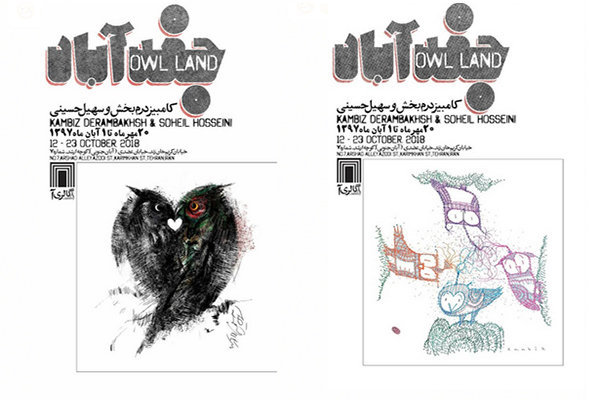 TEHRAN – Celebrated Iranian cartoonist Kambiz Derambakhsh will showcase his latest collection "Owl Land" in an exhibition, which will open at Tehran's A Gallery on Friday.
The artist who is famous for his quick and simple works features owls in different positions in the collection that is composed of 40 cartoons.
"The owl is a topic reviewed in Persian literature for years. Many private collectors collect owl sculptures and many sculptors work on owl sculptures. Of course, it has been for years that I have been working on these topics with the central theme of the owl," Derambaksh told the Persian service of MNA on Sunday.
Despite his previous works, the cartoons created for the collection do not seek to convey a specific message.
"They are mostly decorative ones and depict beauty, color and technique," he noted.
"People in our country believe that the owl is ominous, if it cries, one will die and if it laughs, it will bring happiness, but in Europe, this bird is the symbol of happiness," he said.
The gallery also plans to screen a documentary about Derambakhsh by Javad Atashkari during the exhibit.
The exhibit will run until October 23 at the gallery located at 7 Ardeshir Arshad Alley, Azodi St., Karim Khan Ave.
Photo: Posters for cartoonist Kambiz Derambakhsh's exhibition at Tehran's A Gallery.
RM/MMS/YAW