By Syed Zafar Mehdi
Afghan refugee who defied odds to become an accomplished physicist in Iran
October 15, 2018 - 22:37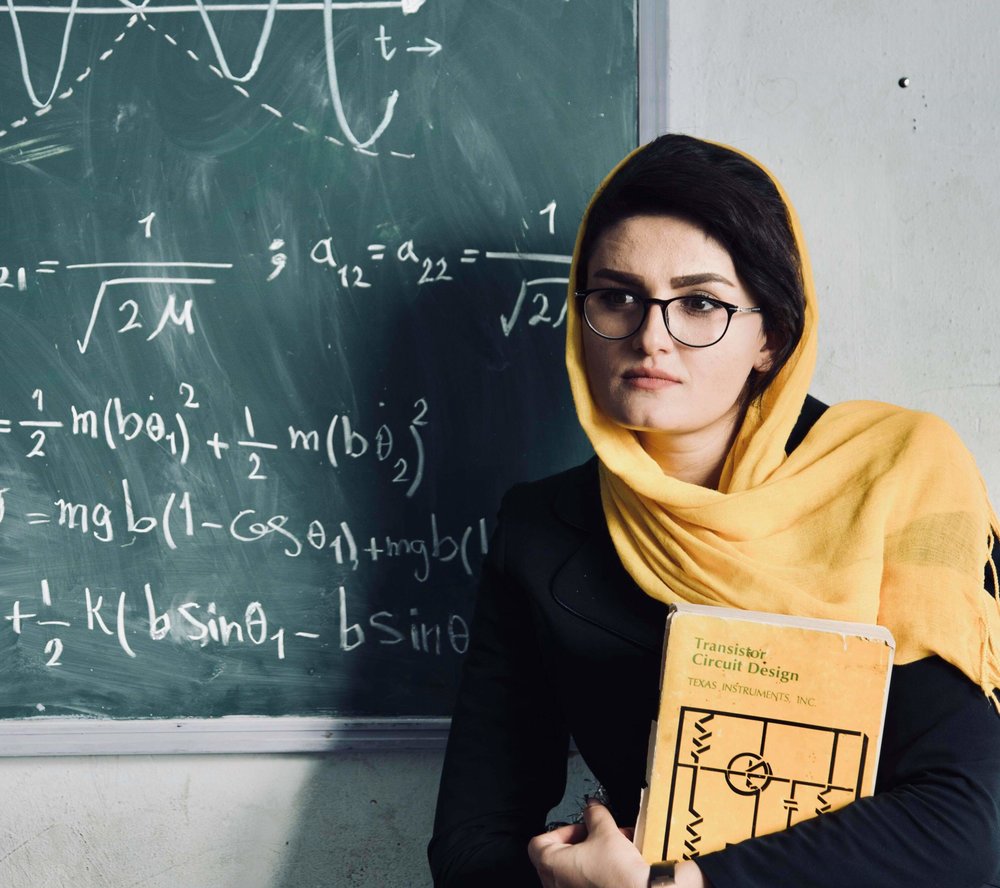 TEHRAN - She was forced to leave her homeland as a small child, along with her family, when the country was battling civil war, much before 9/11 and the American invasion. She became a refugee at a tender age, and faced tremendous hardships while growing up. But, somehow adversities proved to be blessing in disguise for her, making her strong and giving her definite purpose and direction in life.
Forozan Faghiri, born in Kabul and raised in Tehran, has overcome insurmountable odds to carve a niche for herself. A young scientist and physicist, Faghiri did not allow her refugee status and difficult living conditions come in the way of her dreams. At 30, she has hit headlines in both Iran and Afghanistan for her accomplishments.
While talking about her incredible journey, Faghiri recalls the days when her family came to Iran as refugees and suddenly the struggle seemed real. Leaving their country was a difficult decision to take, as it was for thousands of other families that left during the civil war of 90s or during the Soviet invasion before that. Over the years, she overcame many hurdles while chasing her dreams.
When she appeared for the university entrance examination, Faghiri, who studies at Islamic Azad University, says she had difficulty in choosing courses and colleges, but eventually she settled for physics, as it offered great scope and opportunities. When I opted for physics, I tried to be the best, she says. My attempt was to link physics, which is a basic science, to the industry.
Her single-minded dedication and painstaking efforts resulted in a product that eventually became her claim to fame. Faghiri has grabbed headlines in Afghan and Iranian media because of this product, which speaks of her technological prowess. She has designed a pollution monitor with remote registration and control that is believed to be cheaper and better than Western manufactured pollution monitors.
The device is small and portable and can measure parameters like LPG, CO, smoke, dust, temperature, pressure and humidity. Faghiri says she was able to make and use the device with the help of three different branches of science physics, computer science and electronics. This device is portable, small in size and suitable for everyone, says the young physicist.
Everyone, young and old can benefit from the device and can have access to device information through mobile. It has two applications: the first works with Bluetooth and the other works with IoT system (Internet of Things), which means that the device can be accessed anywhere on the data via the internet.
Asked how her device can help in combating the problem of pollution in a city like Tehran, she gives the example of a patient who goes to doctor for the treatment of his ailment. The doctor can only diagnose the problem and prescribe medicine for its cure, she says. Similarly, the device can detect the levels of air pollution and the data will give multiple concurrent points which can be used for pollution control.
Faghiri, who has won accolades in both her country of birth and her adopted country, was felicitated by the government of Afghanistan at a ceremony held in Kabul on her last visit to Afghanistan. It was a great feeling to be recognized for my work and to see the passion of people in Afghanistan, she says. I felt really proud of my country and my countrymen.
Her deep love for home is evident from her talk and she says she has plans to return to Afghanistan someday in future. I do have plans to eventually return to Afghanistan and serve my country, but before that I want to finish my education and gain more experience.
Like every Afghan living abroad, she is also pained by the situation in Afghanistan, where the war has now stretched into its 18th year. My dear homeland is beset by many problems but I believe if the educated Afghans return to their homeland and help in rebuilding the country, things would change and we might see growth and prosperity again.
Even though the security situation in Afghanistan continues to deteriorate and war continues, Faghiri is not hopeless. Good days will return, she says, with a smile.