IRGC chief to Trump: Never threaten Iran
#DownWithUSA
November 4, 2018 - 12:38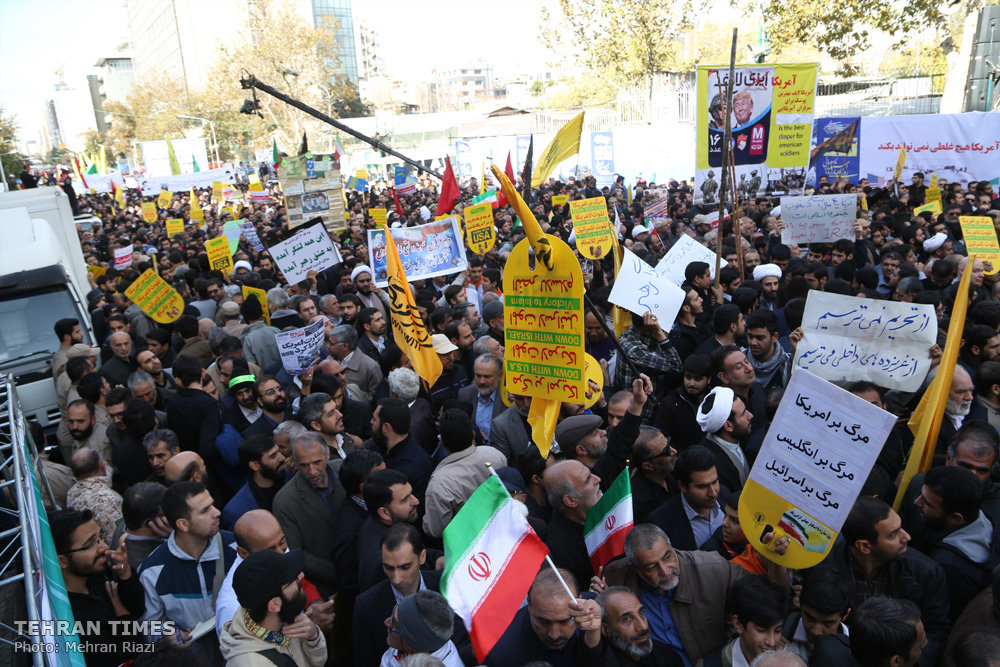 TEHRAN – Iranians on Sunday held a large gathering outside the former U.S. embassy in Tehran to cherish the memory of the capture of the "den of spies" in 1979, as the late Imam Khomeini called it back then.
The rally was held a day ahead of the reimposition of U.S. sanctions on Iran which had been lifted under the 2015 nuclear deal.
#DownWithUSA in Farsi trended on Twitter, as the demonstrators shouted the motto as they have over the past four decades since the revolution.
The key speaker of the gathering was the commander of the Islamic Revolution Guards. His "never threaten" address to U.S. President Donald Trump quickly made it to local media headlines.
"Never threaten the Iranian people… do not make military threats against us, and do not frighten us from military threats," Mohammad Ali Jafari warned.
Pointing to U.S. soldiers' "whimper of fear" in their encounter with Iran and the high number of American veterans who commit suicide because of depression, the IRGC chief said the U.S. power is on the wane.
The enemy's last option, namely economic war on Iran, has been defeated and the U.S. tool of sanctions has become useless, the commander stated.
He also stressed that the Islamic Revolution would have not lasted for 40 years if the den of spies had not been taken over by students back on November 4, 1979.
Officials attend rally
Many top officials attended the anti-U.S. rally. Among them was Judiciary Chief Sadeq Amoli Larijani.
Speaking to reporters on the sidelines of the rally, he said the gathering sends a message to the U.S.
The Iranian nation will never give way to pressure, the top judge asserted.
"These people have been tried before. Over the forty years of the revolution they have withstood all pressures," he added.
Ahmad Khatami, a member of the Assembly of Experts, also spoke on the sidelines of the rally.
"Today America is weaker than the past… witnessed by the fact that they have $800 billion budget deficit," Khatami remarked.
"America has been committing crimes in our country; since the 1953 coup to date it is doing crimes against this nation," Khatami added.