'U.S. on verge of political suicide'
November 4, 2018 - 21:18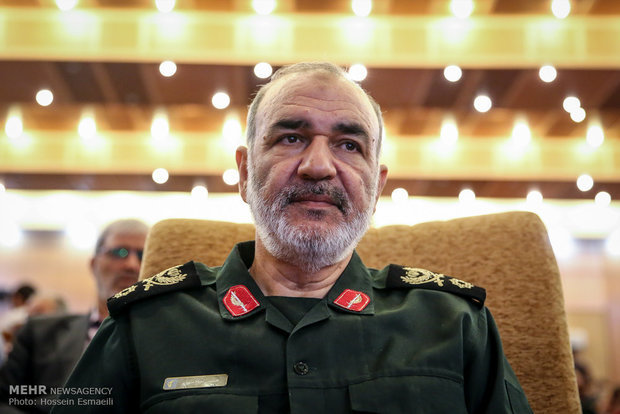 TEHRAN - Brigadier General Hossein Salami, the Islamic Revolution Guards Corps second-in-command, said on Saturday that the U.S. is on the verge of "political and economic suicide".
"As the Leader [Ayatollah Ali Khamenei] has said, the U.S. power is waning because of its wrong policies and lack of political logic," Salami said in a televised interview.
"The U.S. has made efforts to exert pressure against us and make us surrender which has not worked and will not work," he added.
No foreign pressure can prevent Iran from the path of progress, General Salami noted.
"Today, we see that after more than forty years of economic war and eight years of military war against Iran, we have made remarkable advances and we are able to meet all of our fundamental needs," the top-ranking general promised.
Pointing to the U.S. sanctions, he said that the U.S. act in letting eight countries keep buying oil from Iran after it reimposes second round of sanctions is a victory for Iran.
The White House announced on Friday that it will restore all the sanctions against Iran, which were lifted under the 2015 nuclear deal.
However, Bloomberg reported on Friday that the U.S. has agreed to let eight countries, including Japan, India and South Korea, keep buying Iran's oil after it re-imposes sanctions.
Iran able to target U.S. aircraft carriers with precision-guided missiles
Elsewhere, General Salami said that the U.S. military equipment is "old" and Iran can target the U.S. aircraft carriers in regional waters with "precision guided missiles".
NA/PA