Gabriel: thousands of German SMEs can trade with Iran
November 13, 2018 - 22:54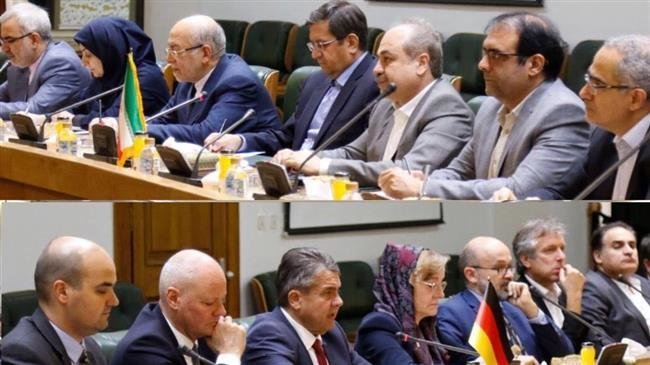 Former German foreign minister Sigmar Gabriel says small and medium-sized enterprises (SMEs) can continue trade with Iran despite U.S. sanctions on the Islamic Republic.
Gabriel was visiting Iran at the head of an economic delegation of chief executives and representatives of Germany companies.
They met Iran's Central Bank Governor Abdolnaser Nemmati in Tehran late Monday, where Gabriel reiterated Europe's determination to expand political and economic ties with Iran after US withdrawal from the 2015 nuclear agreement.
"Thousands of small- and medium-sized German companies that have nothing to do with the United States can easily trade with Iran," IRNA news agency quoted him as saying.
Gabriel also sounded upbeat about opening a financial channel to continue trade with Iran in the face of new US sanctions on the Islamic Republic.
The European Union has said it is creating a new payment mechanism to allow countries to transact with Iran while avoiding the US sanctions.
Called the "special purpose vehicle" (SPV), the mechanism would aim to "assist and reassure economic operators pursuing legitimate business with Iran". Iran has welcomed the step but it is frustrated at the pace with which the SPV is being set up.
Gabriel told Iran's Parliament Speaker Ali Larijani on Monday that the EU did not agree with all US policies but there was some level of uncertainty among some European countries about countering US sanctions even though they all agreed on the need to preserve the nuclear deal.
A failure to set up the SPV would be a humiliation for broader advocates of greater European economic independence from the dollar.
In August, Deutsche Telekom and Deutsche Bahn, two state-owned German companies, followed car manufacturer Daimler and mechanical engineering company Herrenknecht to withdraw from Iran because of US sanctions.
Germany's Ambassador to Tehran Michael Klor-Berchtold, however, reaffirmed his country's commitment to Iran during a meeting with reps of Iran Small Industries and Industrial Parks Organization last week.
"We wholeheartedly support and welcome the cooperation of SMEs of the two countries," the ambassador said, adding the embassy was following up on facilitating visa issuance problems for Iranian business representatives.
"The embassy is striving to reduce the time and ease the process based on which visas are issued for Iranian business representatives for them to be able to participate in exhibitions or educational courses held in Germany," he said.
Sadeq Najafi, deputy minister of industries, mining, and trade, said 90% of Iranian SMEs represent short-term profit businesses that can be supported by Germany in expanding trade in the face of US sanctions.
Meanwhile, co-chair of Iran-Germany Chambers of Commerce Michael Tockuss told DW that he expected SMEs to carry out 200 million euros-250 million euros a month of German exports to Iran even under the US sanctions.
(Source: press TV)