Iran, 2nd biggest consumer of antibiotics among 65 countries: WHO
November 14, 2018 - 20:44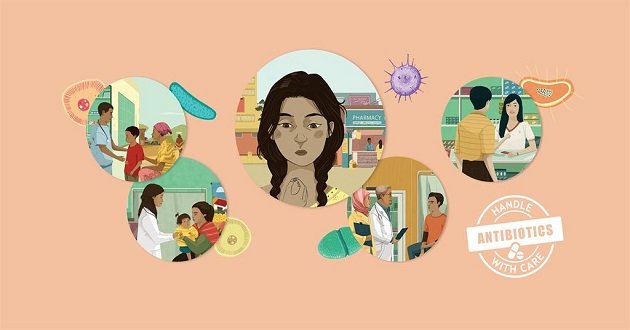 TEHRAN - Iran's antibiotics consumption was the second highest among 65 countries, according to World Health Organization (WHO) report on Surveillance of Antibiotic Consumption published in November 2018.
The report presents 2015 data on the consumption of systemic antibiotics from 65 countries and areas: four from the African Region, six from the Region of the Americas, 46 from the European Region, three from the Eastern Mediterranean Region and six from the Western Pacific Region.
Three Eastern Mediterranean countries included Iran, Jordan and Sudan; they provided WHO with their data on national consumption of antimicrobials for the years 2014–2016.
WHO uses a measurement called a defined daily dose (DDD) – the average dose a patient needs every day – to compare drug consumption rates between countries.
According to the report, Mongolia had the highest rate of antibiotic use with 64 DDD, per 1,000 inhabitants per day.
Iran, with a consumption rate of 38.78 DDD stood at second place, followed closely by Turkey, with a 38.18 usage rate.

The country with the lowest rate of antibiotic use was Burundi in east Africa whose consumption amounted to only four DDD per 1,000 inhabitants per day. Azerbaijan was also among the countries with the lowest rate of antibiotic use at around seven DDD.


First in Eastern Mediterranean Region
With 38 DDD per 1000 inhabitants per day, Iran's consumption of antibiotics exceeded other monitored Mediterranean countries, as the total consumption in Jordan and Sudan was 8 DDD and 35 DDD, respectively.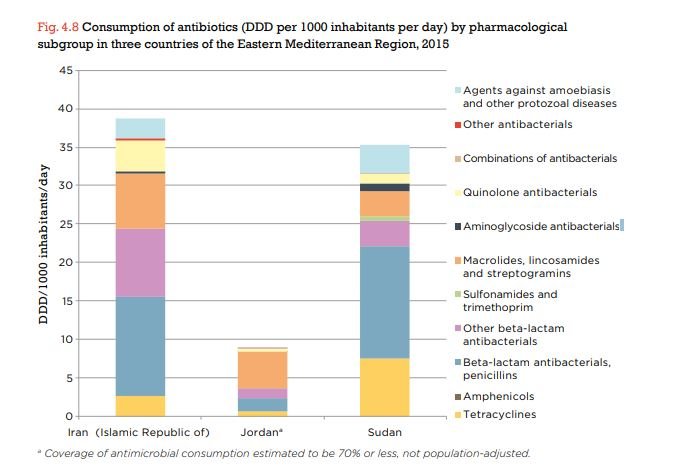 The report revealed that penicillins were the most frequently used antibiotic subgroup in Iran, accounting for 33% of total consumption
Other frequently used antibiotic groups in Iran were other beta-lactam antibacterials (23%) and macrolides/lincosamides/streptogramins (19%) followed by quinolones (11%).
The results also showed that oral antibiotics accounted for 95% of total antibiotic consumption in Iran; the most commonly consumed orally administered antibiotic substances were amoxicillin, azithromycin and cefixime. Narrow-spectrum penicillins (benzathine benzylpenicillin, procaine benzylpenicillin) were the most frequently consumed parenteral antibiotics.
Zero consumption of "Reserve" antibiotics
"Reserve" Group antibiotics, used for situations when all alternative antibiotics have failed, was not used in Iran during 2015.
According to the report, "Reserve" antibiotics only accounted for less than two percent of total consumption in most high-income countries and were not reported by most low- and middle-income countries.
According to WHO classification for antibiotics called AWaRe (Access, Watch and Reserve), "Access" antibiotics should be widely available, affordable and quality-assured; "Watch" Group antibiotics should be recommended only for specific, limited indications; "Reserve" antibiotics should only be used as a last resort for treatment of specific infections caused by multidrug-resistant bacteria.
In Iran, around 50 percent of the antibiotics were in the Access group and 45 percent were in the watch group; in Sudan, access group antibiotics consumption was around 60 percent, but watch group antibiotics only amounted to 17 percent of the usage.
The report was published by WHO during World Antibiotic Awareness Week (November 12-18) which aims to increase global awareness of antibiotic resistance (AMR) and to encourage best practices among the general public, health workers and policy makers to avoid the further emergence and spread of antibiotic resistance. Its slogan is "the misuse of antibiotic is putting us all at risk."
Antimicrobial resistance (AMR) is the ability of a microorganism (like bacteria, viruses, and some parasites) to stop an antimicrobial (such as antibiotics, antivirals and antimalarials) from working against it. As a result, standard treatments become ineffective, infections persist and may spread to others.
SJ/MQ/MG