South Korean train travels to the North for joint railway inspection 
November 30, 2018 - 14:30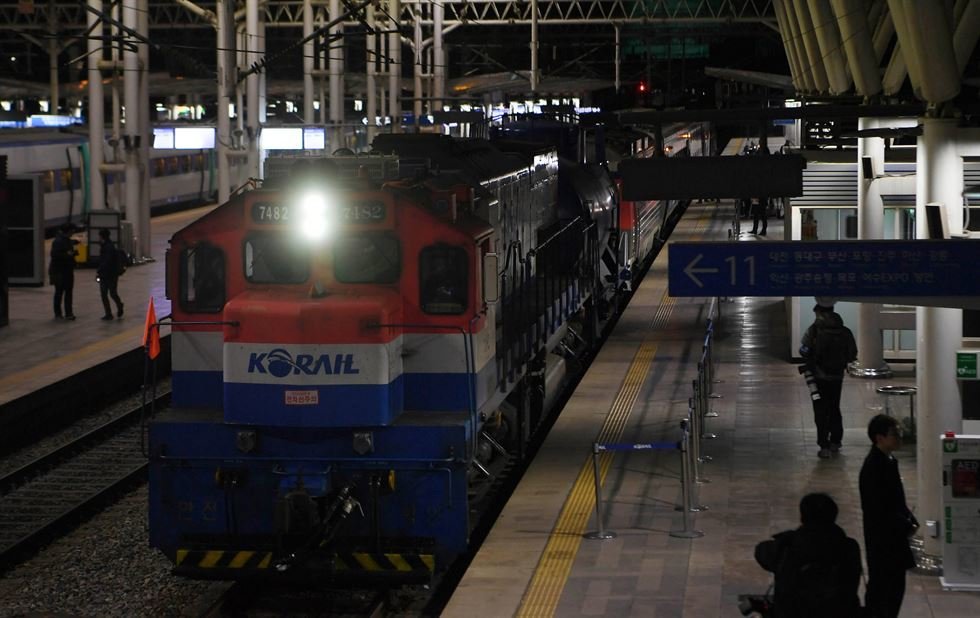 A South Korean train departed for North Korea on Friday for an 18-day joint railway inspection that the Koreas are conducting as part of efforts to modernize, and eventually reconnect, rail lines across their border.
The train, made up of six cars and carrying dozens of South Korean officials and experts, left Dorasan Station, just south of the inter-Korean border, around 9:05 a.m. for Panmun Station, near the North's border city of Kaesong.

The train will be used to inspect 1,200 kilometers of rail track in the North through Dec. 18.

The inspection is part of a summit agreement between the leaders of the Koreas, signed in April, to modernize and eventually reconnect rail systems across their border in a bid to foster reconciliation on the Korean Peninsula.

"The inter-Korean railway connection project is intended to overcome division and open a new future of the Korean Peninsula," Unification Minister Cho Myoung-gyon told a ceremony at Dorasan Station to mark the launch of the inspection.

"Through the one connected railway, the South and the North will prosper together and the ground for peace on the Korean Peninsula will be consolidated. The trains running on the track will also carry peace and prosperity with them to Northeast Asia and the world," he added.
A North Korean locomotive will take over the six-car train from Panmun Station. The six cars are comprised of quarters for passengers, offices and sleeping, along with other areas reserved for fuel, generator and other equipment.

The train will run on the 400-km western Gyeongui Line railway for about six days to the city of Sinuiju near the North's border with China.

After the Gyeongui Line inspection is completed, it will move to the eastern town of Wonsan to begin a roughly 10-day inspection of the 800-km Donghae Line railway from Mount Kumgang all the way to Tumen River on the country's northeastern tip, the ministry said.

The railway inspection marks the first of its kind since 2007, when the two Koreas inspected a 412-km railway linking Kaesong to Sinuiju.

They ran cargo train services between Dorasan Station and Panmun Station for about a year until 2008, when they came to a halt amid frozen inter-Korean relations.

It is also the first time for a South Korean train to run from Mount Kumgang to Tumen River since the peninsula was divided following the 1950-53 Korean War.

The inspection has been delayed amid U.S. concerns about possible violations of U.N. sanctions on North Korea. But the project was given a green light recently as the United States expressed strong support for the survey and the U.N. Security Council granted a sanctions exemption.

"We will closely consult with relevant countries going forward to make sure the inter-Korean railway connection project can proceed with the support of the international community," Unification Minister Cho said.

The Seoul government is sticking to its plan to hold a groundbreaking ceremony for inter-Korean railway and road connection projects this year as agreed upon by their leaders in September.

There is still speculation over whether the ceremony could be held as planned due to a delay in the railway inspection and a failure to hold a similar road inspection in the North.

A unification ministry official earlier said that the government will keep to the 18-day schedule given that the time is running out to prepare for the ceremony. He added that the two Koreas would seek additional surveys later on if necessary. (Yonhap)
(Source: koreatimes.co.kr)