Abu Mahdi al-Muhandis crowned Resistance Figure of the Year
"Lost Strait", "Midday Event" best films at Resistance festival 
December 1, 2018 - 19:0
TEHRAN – Mohammad-Hossein Mahdavian's political drama "The Midday Event" on the terrorist atrocities of the Mojahedin-e-Khalq Organization and Bahram Tavakkoli's "The Lost Strait" about the true story of an epic battle by Iran's Ammar Battalion during the last days of the 1980-1988 Iran-Iraq war, both from Iran, won the awards for best films at the 15th International Resistance Film Festival, the organizers announced on Friday evening.
One of the two awards for best directors in the international competition went to Álvaro Brechner from Uruguay for his drama "A Twelve-Year Night" during the closing ceremony of the event at Tehran's Milad Tower.
Kim Druzhinin and Andrey Shalopa from Russia won the other best director award for their collaboration on the war drama "Panfilov's 28 Men".
"The Father" directed and written by Basil Al-Khatib from Syria received the award for best screenplay. The film depicts the attempts being made by a man in the Syrian war to save his family.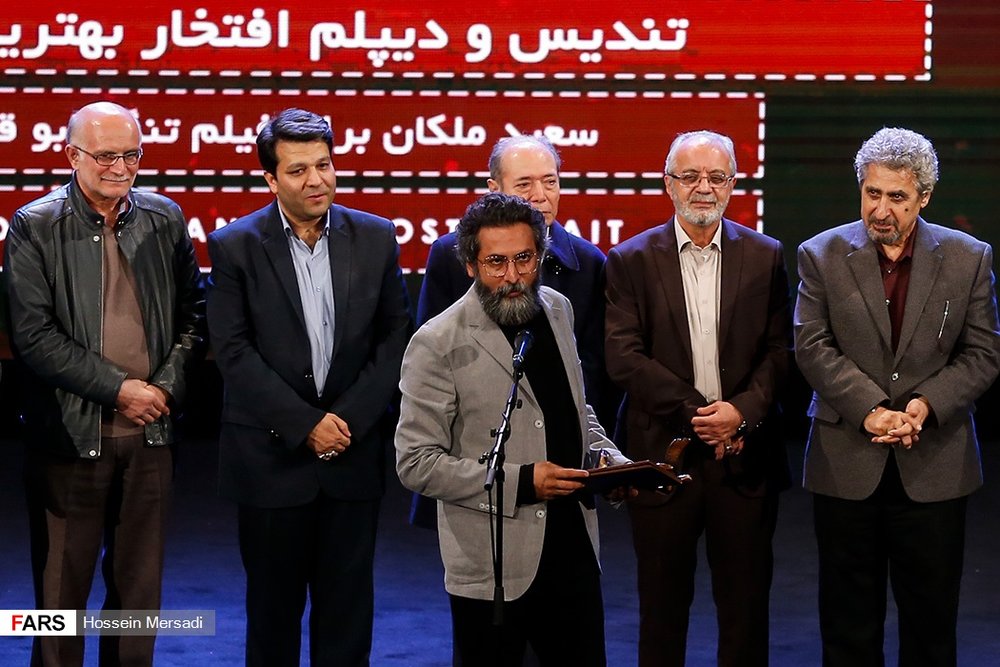 Producer Saeid Malekan speaks after receiving the award for best film for "The Lost Strait" at the 15th International Resistance Film Festival at Tehran's Milad Tower on November 30, 2018. (Fars/Hossein Mersadi)
"Women with Gunpowder Earrings" by Iranian filmmaker Reza Farahmand, which is about Nur, a female journalist who covers stories about Syrian and Iraqi women and children in the war against the ISIS terrorists, was picked as best documentary film.
"Killing Gaza" co-directed by American journalists Dan Cohen and Max Blumenthal about Israel's 2014 war on Gaza received the second best documentary award.
The award for third best documentary was presented to "Yemen: Children and War" by Yemeni director Khadija Al-Salami. The documentary is about the ravages of the Yemen war being reported by a brother and sister aged 11 and 8, and their nine-year-old nephew.
American documentarian Jeremy Williams also won an honorable mention for his "On a Knife Edge".
Abu Mahdi al-Muhandis, a high-ranking commander of the Popular Mobilization Units – Hashd al-Shaabi in Iraq, was selected as the Resistance Figure of the Year.
Al-Muhandis could not attend the awards ceremony and a Hashd al-Shaabi member Seyyed Abbas Musavi received the award on his behalf.
Photo: A Hashd al-Shaabi member Seyyed Abbas Musavi accepts the award for the Resistance Figure of the Year on behalf of his commander Abu Mahdi al-Muhandis. (Mehr/Maryam Kamyab)
MMS/YAW