Trump's offer for talks cannot be taken seriously, Larijani says
December 3, 2018 - 19:33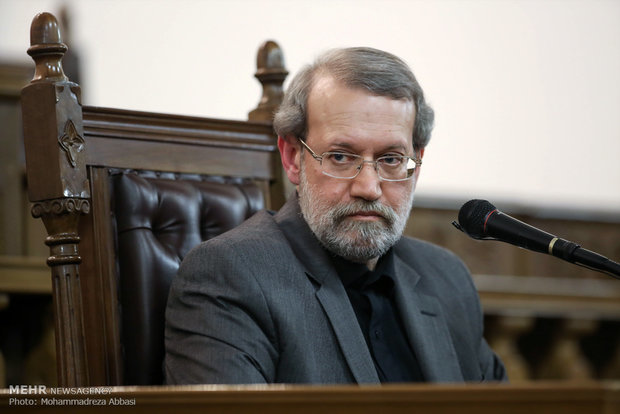 TEHRAN – U.S. President Donald Trump's calls for talks with Iran cannot be taken seriously until Washington returns to the 2015 nuclear agreement as a gesture of goodwill, Majlis Speaker Ali Larijani says.
At a press conference in Tehran on Monday, Larijani described Trump's statements about Iran as diplomatic double-talk, saying the U.S. president's anti-Iran rhetoric is in sharp contrast to his calls for new rounds of negotiations.
"How can a country be in favor of dialogue when it tramples upon an international agreement?" he asked, adding, "This offer is a ploy. They are not truly in favor of talks."
If the Americans had taken the right path by adhering to their commitments under the nuclear pact, holding new talks would have been possible, he remarked.
The parliament speaker, however, refused to rule out the possibility of talks with the U.S., saying, "It depends on their behavior. They [must] take a step and return to the nuclear agreement."
Asked whether Iran would exit the nuclear deal, Larijani said given U.S. withdrawal, Iran is entitled to pull out of the deal, "but it will use such right only when it serves its interests."
He also said European countries must decide whether they want to establish the Special Purpose Vehicle (SPV), which has been designed to conduct banking transactions with Iran after U.S. sanctions went into effect.
'Iran not ready to have a parliamentary system'
Also asked when the country will move toward a parliamentary system, Larijani said, "The Leader of the Islamic Revolution Ayatollah Ali Khamenei has recently pointed to this issue, which would be a good move in my opinion, but considering our current circumstances, the country is not ready for such a change."
The speaker also rejected the notion of establishing a bicameral legislature, saying studying such issue would not be appropriate at the current situation.
"Today, the main challenge for our country is sanctions and economic issues," he stressed.
Larijani went on to say that the need for national unity is of the utmost importance for the country, pointing out that the heads of the three branches of government hold regular meetings to promote unity and ensure better coordination.
MH/PA