Kashmir shuts down to protest civilian killings
December 18, 2018 - 9:35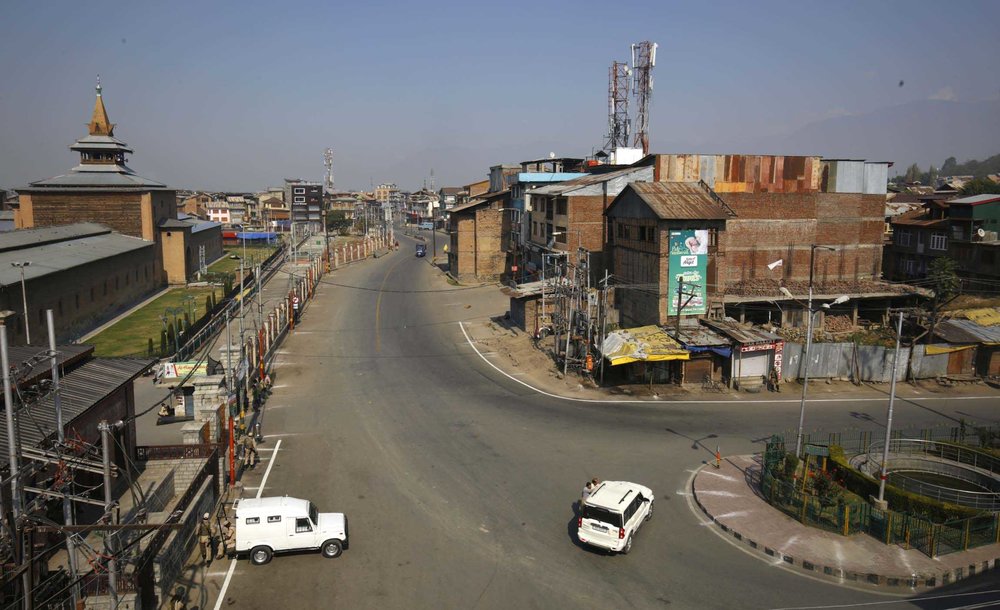 TEHRAN - For the third consecutive day on Monday, situation in Indian-controlled-Kashmir remained tense over the killing of seven civilians by security forces on Saturday.
The civilians, most of them youth, were killed when security forces opened "indiscriminate fire" at protesters following an encounter in south Kashmir's Pulwama in which three militants were killed.
Separatist leadership had called for a three-day shutdown and planned a massive march towards an army cantonment in Kashmir's capital city Srinagar on Monday.
In order to foil the plan and prevent them from leading the march, government put two top separatist leaders – Syed Ali Shah Geelani and Mirwaiz Umar Farooq – under house arrest.
Earlier, in a statement, Mirwaiz said people will march towards Badami Bagh Army cantonment in the heart of Srinagar "to ask government of India to kill all of us at one time rather than killing us daily."
Police and paramilitary forces in the troubled region quickly swung into action and sealed all sensitive parts of Srinagar city with barricades, including on roads leading to the army cantonment.
Shops, government offices and banks remained closed third consecutive day. Authorities also suspended mobile internet services fearing unrest.
In a statement late on Sunday, army warned the people against taking part in the march. "Army advises people not to fall prey to such designs of anti-national forces," the statement said. "It's an attempt to pit the civilian population against the security forces".
The armed clashes between Indian security forces and militants have intensified in recent months in the Muslim-majority region with a spate of encounters in south Kashmir. According to official figures, 242 militants have been killed this year in the region, besides 101 civilians and 82 members of the security forces, making it the bloodiest year in more than a decade.
While many prominent militant commanders, most of them local Kashmiris, have been killed in recent encounters, civilians have also come in the line of fire.
Protests at encounter sites have become common in Kashmir in recent years, and government forces have come under severe criticism for not being able to manage the situation.
Following the Saturday killings, Omar Abdullah, the region's former chief minister, took to Twitter to slam the forces. "Any way you look at it this was a badly executed encounter," he wrote. "Protests around encounter sites are now the norm not the exception. Why are we unable to learn how to handle them better?"
Abdullah termed it a "massacre". "There is no explanation for this excessive use of force, none what so ever. This is a massacre and that's the only way to describe it," he said.
Mehbooba Mufti, who headed a coalition government in the region with India's ruling BJP, said "no country can win a war by killing its own people". "How long are we going to shoulder the coffins of our youngsters? So many civilians killed today post encounter in Pulwama. I strongly condemn these killings, and once again appeal for efforts to stop this bloodbath," she tweeted.
Pakistan also condemned the Saturday killings. "Only dialogue and not violence and killings will resolve this conflict," Prime Minister Imran Khan said, adding that his country would raise India's "human rights violations" at the United Nations.
Meenakshi Ganguly, South Asia director at Human Rights Watch, said Indian authorities should investigate and prosecute those responsible for "indiscriminate use of force".
"Security forces are aware that villagers gather, protest during gunfights with Kashmir militants and have responsibility to ensure civilians are not at risk," she said in a tweet.
The region is currently under the rule of India's federal government after the state assembly was dissolved last month. Fresh elections are expected to be held in the coming months.