By Syed Zafar Mehdi
'Afghanistan deadliest country in world for journalists in 2018'
December 19, 2018 - 20:1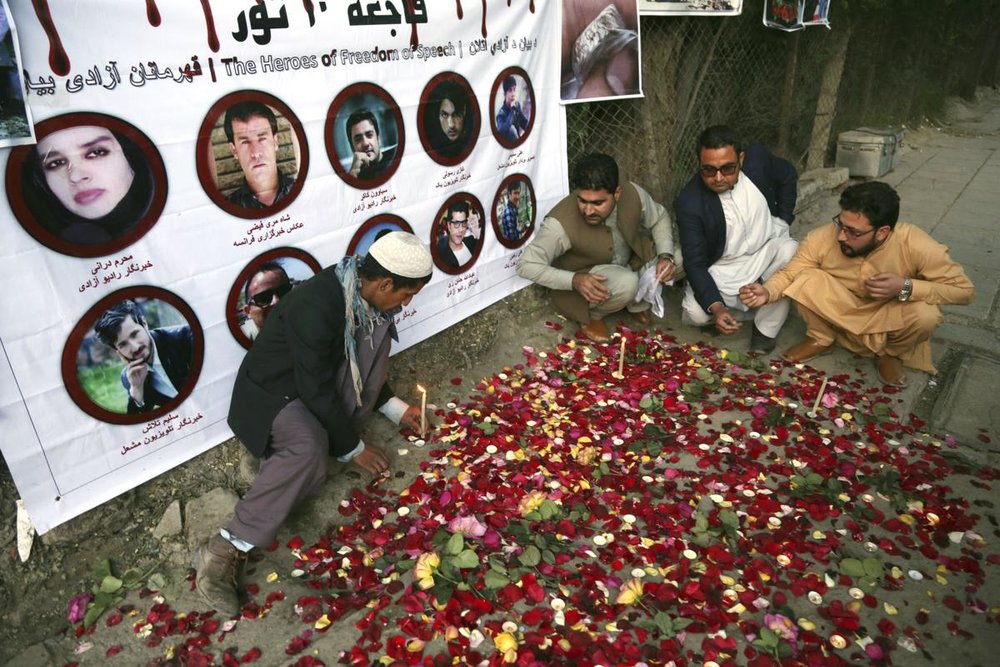 TEHRAN - Journalists in Afghanistan, where the foreign-imposed war has now stretched into its 18th year, continue to walk a tightrope, living dangerously while trying to report the daily incidents.
Reporting in the war-ravaged country can be a daunting task. Over the years, many local and foreign journalists have been killed or wounded in various incidents of violence across the country.
But, despite ominous threats and heavy odds, they have upheld the principles of free and fairless journalism under extremely challenging circumstances.
Security is the biggest challenge for journalists in Afghanistan who have to report from highly volatile areas, mostly about suicide bombings, drone strikes, and IED blasts.
They are sometimes caught between the devil and deep sea, facing threats from armed insurgents, foreign forces, government officials, warlords and criminals. Journalists in Afghanistan are soft target.
According to a latest report by Reporters Without Borders (RSF), Afghanistan has been the world's deadliest country for journalists in 2018, where it says 13 journalists and 2 media workers were killed, all before the October parliamentary elections.
Nine of them, including senior photojournalist Shah Marai, were killed in twin blasts in April this year, the most deadly attack on the media in Afghanistan since 2001.
Reza Moini, the head of RSF's Afghanistan desk, was quoted saying that the increase in targeted attacks on journalists in the run-up to elections had threatened "the Afghan people's sovereignty and democratic choice."
The war imposed by the Taliban and ISIS, and facilitated by Western powers led by U.S., have had ominous consequences for media freedom in Afghanistan.
Afghan government led by President Ashraf Ghani has come under severe censure for failing to protect journalists from violence.
In October this year, at the re-launch of Journalists Support Fund in Kabul – a fund meant to help members of the Afghan media fraternity including families of those killed while covering war President Ghani said his government was not at odds with the media and the two should work together because they have "shared goals".
Meanwhile, in Syria, the RSF report said, 11 journalists were killed while covering the deadly war this year.
Overall at least 63 journalists around the world were killed on job in 2018, with Afghanistan being the deadliest place for journalists worldwide.
The Paris-based organization, which advocates freedom of press, said the violence against journalists had increased by 15 pecent compared to the previous year.
"The hatred of journalists that is voiced ... by unscrupulous politicians, religious leaders and businessmen has tragic consequences on the ground, and has been reflected in this disturbing increase in violations against journalists," RSF Secretary-General Christophe Deloire said in a statement.
More than half of the journalists killed during the year were "deliberately targeted," the statement issued by RSF said, adding that the overall death toll does not include 10 deaths that RSF is still investigating.
The report reinforces the findings of Committee to Protect Journalists (CPJ), which said in October that 324 journalists during the past decade have been "silenced through murder worldwide" and that no perpetrators have been convicted in more than 85 percent of those cases.
RSF Secretary-General Christophe Deloire said "violence against journalists has reached unprecedented levels this year, and the situation is now critical."
Deloire further said that the increased violence reflects "the hatred of journalists that is voiced, and sometimes very openly proclaimed, by unscrupulous politicians, religious leaders, and businessmen."
He said social-media networks also "bear heavy responsibility" for amplifying "expressions of hatred" against journalists that "legitimize violence" -- undermining "journalism, and democracy itself, a bit more every day."
RSF annual report also highlighted the killings of prominent Saudi journalist Jamal Khashoggi and the young Slovak journalist Jan Kuciak, saying their deaths highlighted "the lengths to which press freedom's enemies are prepared to go."
Khashoggi's murder, ordered by the Saudi crown prince Mohammed bin Salman, has been the defining story of this year, which has hogged headlines for months. The brutal crime was carried out in Saudi Kingdom's Istanbul consulate, which led to tremendous uproar around the world and brought into focus Saudi regime's horrendous crimes.