By Syed Zafar Mehdi
Journalists in war-ravaged Afghanistan continue to walk a tightrope
October 17, 2018 - 20:49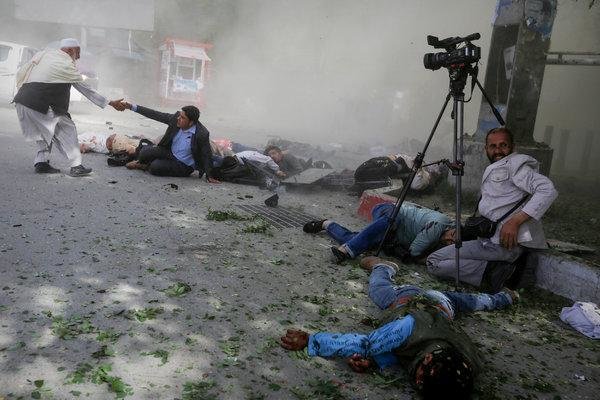 TEHRAN- s violence against journalists surges in Afghanistan and government faces the heat for failing to safeguard their rights, President Ashraf Ghani says his government is not at odds with the media and that government and the media should work together and be committed to implementing the law.
President Ghani made the remarks on Tuesday in Kabul at the re-launch of the Journalists Support Fund in Kabul – a fund that will help members of the Afghan media fraternity including families of those killed while covering war. He announced the donation of five million AFs from his personal end to the fund and the Ministry of Finance pledged to donate 10 million AFs.
He said government and the media needs to work together, because they have "shared goals" -- which is the strengthening of peoples' rights. He urged media companies to introduce insurance policies for journalists. "Now is the time to take an active part in establishing insurance (policies) for journalists. It is not acceptable that media steps on the law. When you do not pay tax, it is another issue, but when the rights of journalists are not respected, the law should be implemented against media owners," said Ghani.
Journalists in the war-ravaged country continue to walk a tightrope, reporting daily incidents of violence under dangerous and life-threatening conditions. Over the years, many journalists have suffered casualties in the war that has now stretched into its 18th year. But, despite ominous threats and heavy odds, they have upheld the highest ideals of journalism under extremely trying conditions.
Security is the biggest challenge for journalists who have to report from highly volatile areas. They face threats from armed rebels, government officials, power lords and criminals. With 14 journalists and two media workers killed since January, 2018 has been the deadliest year for the Afghan media since 2001, when the U.S.-led alliance invaded Afghanistan.
When Sardar Ahmad, senior reporter in AFP's Kabul bureau, and his family were killed in an attack a day before the Afghan New Year, on March 20, 2014, it made international headlines. His youngest son Abuzar, barely 3 year old that time was the only member of the family to survive the attack. Following his killing, journalists in Kabul announced the temporary boycott of Taliban coverage. But that did not deter them and the juggernaut rolled on.
The deaths of two Tolo News journalists Samim Faramarz and Ramiz Ahmadi on September 5 took the number of journalists and media workers killed in Afghanistan this year to 14. Clearly, more journalists have been killed in Afghanistan this year than in any other country, including Syria or Yemen.
Nine journalists, including senior photojournalist Shah Marai, were killed in twin blasts last month -- the most deadly attack on the media in Afghanistan since the fall of the Taliban 17 years ago.
The beleaguered Afghan government has come under sharp criticism for failing to protect journalists. NAI, an organizations supporting open media in Afghanistan, says government has not delivered its commitments to journalists. NAI statistics show that so far 1,194 cases of violence against journalists have been registered, of which government has addressed and investigated only 40 cases.
"When government signs national and international orders, the important thing is that to what extent the orders will be implemented. Right now, we have Article 34 of the Constitution on supporting freedom of expression and Article 52 of the Constitution on access to information, but these articles have not been implemented by government," Mujib Khelwatgar, head of NAI, was quoted saying in media.
And media outlets have been criticized for putting their staff in harm's way while reporting war. "Losing journalists in similar events one after another and not learning from the mistakes is bad management both on the part of the media organizations and the government," Sayed Ikram Afzali, executive director of Afghan advocacy group Integrity Watch, was quoted saying by AFP recently.
Lotfullah Najafizada, head of Tolo News, which has lost many of its staff members in 17 years of war, believes it is important to keep a longer distance while covering incidents like a suicide attack, demonstration and natural disaster. "It's also important that our journalists should have all the protection gear that is required, and for them to stay in touch with our security personnel," he was quoted by BBC.
The war imposed by the Taliban and ISIS, and facilitated by Western powers led by U.S., have had ominous consequences for media freedom in Afghanistan. According to Reporters Without Borders (RSF), a total of 60 journalists and media workers have been killed in Afghanistan since 2001 -- an average of around three a year. Afghan media support group NAI puts the figure at 95.
Last week, Afghanistan Journalists Center (AJC) announced that the Afghan government has declared its support to the new United Nations General Assembly resolution on the safety of journalists and the issue of impunity. "The pressures are ongoing on journalists from different channels or they are under secret follow ups. According to the new resolution, these acts should end by countries which are supporting the resolution,"Ahmad Hunaish, an advisor to AFJC, was quoted in media.
As Afghanistan prepares to hold parliamentary elections on 20 October, RSF has called for more protection for journalists, who are the guarantors of free, transparent and democratic elections, according to a statement issued on Monday.
"The increase in targeted attacks on the media and the deterioration in the security situation for women journalists in the run-up to the elections threaten the Afghan people's sovereignty and democratic choice," said Reza Moini, the head of RSF's Afghanistan-Iran desk.