By Syed Zafar Mehdi
Two anti-Pakistan figures nominated to top security posts in Afghanistan
December 25, 2018 - 11:36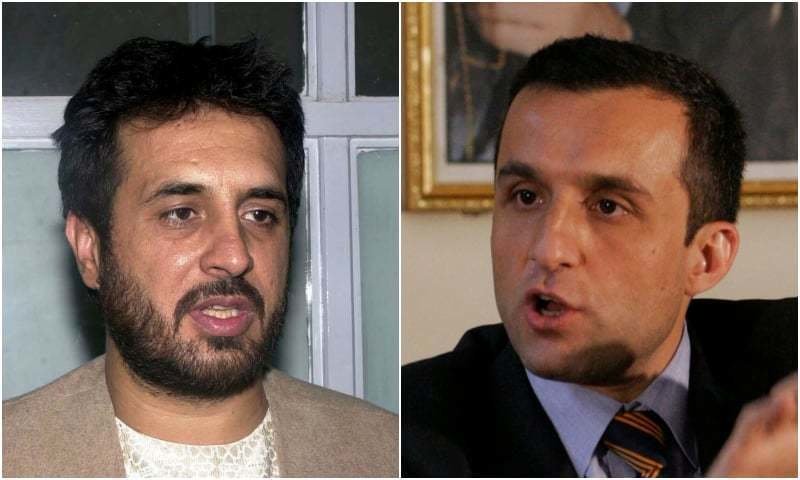 TEHRAN - In a very significant but debatable move, Afghanistan President Ashraf Ghani has appointed two political rivals and avowed adversaries of neighboring Pakistan to two key ministries.
The news had been doing rounds for a week and the final announcement came as a surprise to many. Both the nominees have headed the country's spy agency – National Directorate of Security (NDS).
Amrullah Saleh, a close aide of chief executive Dr. Abdullah Abdullah and a critic of Ashraf Ghani-led government, has been given the crucial portfolio of interior ministry.
Asadullah Khaled, a veteran security official who announced his own political movement earlier this year, has been entrusted with the ministry of defense.
The nomination of Saleh and Khaled to two key security posts – interior affairs and defense – comes at a time when the Taliban movement has gained momentum across the country and the security situation has deteriorated alarmingly.
The timing is particularly interesting as the insurgent group has been engaged in 'peace negotiations' with U.S. over the past few months, reportedly facilitated by Pakistan.
Both men are vocal critics of Pakistan and openly accuse Islamabad of providing sanctuary to terror groups like Haqqani Network that targets Afghans.
Saleh, in particular, has often slammed Pakistan for being the 'state sponsor of terrorism' and opposed any move to extend hand of friendship towards Islamabad. Saleh had earned tremendous fame as the head of Afghanistan's spy agency before calling it quits.
In a tweet just two days ago, he said the real threat was not ISIS-K, but ISI (Pakistan's spy agency). "Watch the ISIS and ISIS-K will vanish by itself… At least 30 million plus Afghans know who the enemy is," he wrote.
In another tweet, sub-tweeting Pakistan Prime Minister Imran Khan's statement that Pakistan had helped in the dialogue between Taliban and the U.S. in Abu Dhabi, Saleh said the Pakistan army and the ISI had "ordered its proxy terrorists to agree to dialogue in order for Pakistan to secure a loan from the IMF."
The talks between the Taliban and the U.S. took place in Abu Dhabi last week, which was attended among others by a Pakistani government delegation also. The U.S. side by represented by former diplomat Zalmay Khalilzad.
The nomination of Saleh and Khaled to two important ministries, observers fear, might discourage Islamabad from actively taking part in peace negotiations. The two men, known for speaking their mind, would issue statements that may not go down well with hawks in Islamabad.
Mosharraf Zaidi, a noted political commentator from Pakistan, said Amrullah Saleh's appointment as the minister of interior was "peak desperation" by President Ghani, which signals the Afghan government's intent to "increase tensions with its most important neighbour."
"Hard to imagine what Saleh's role is, other than to provoke Pakistani officials," Zaidi tweeted.
Ahmad Mukhtar, a Kabul-based journalist, said the appointment of Saleh and Khaled will "unquestionably anger Islamabad and Taliban" at a time when Pakistan is facilitating peace between the Afghan government and Taliban, echoing Zaidi.
However, Afghanistan's long-time watcher and author Bernett Rubin said it signals one or both of two things: responding to the security challenge by appointing the most qualified people to the top posts, regardless of past political friction or coopting potential supporters of opponents in the upcoming presidential election.
Afghan media mogul Saad Mohseni, however, welcomed the decision and said their appointment inspires hope. "You can't talk peace unless you have the upper hand on the battlefield. With Assadullah Khaled at Defence and Amrullah Saleh at Interior that momentum can be regained," he tweeted.
Meanwhile, some see it as President Ghani's masterstroke in the run up to general elections next year.
Saleh, a powerful Tajik voice, had campaigned against Ghani in the last general elections and Khaled who has his own political party is certainly not part of Ghani team. With this move, experts believe, Ghani may be able to gain their allegiance and support for elections.
Ghani is expected to run for a second five-year term, and against him are many old warhorses. The developments in coming weeks would make the puzzle clearer.