Highest number of out-of-school children in 5 provinces
January 5, 2019 - 23:27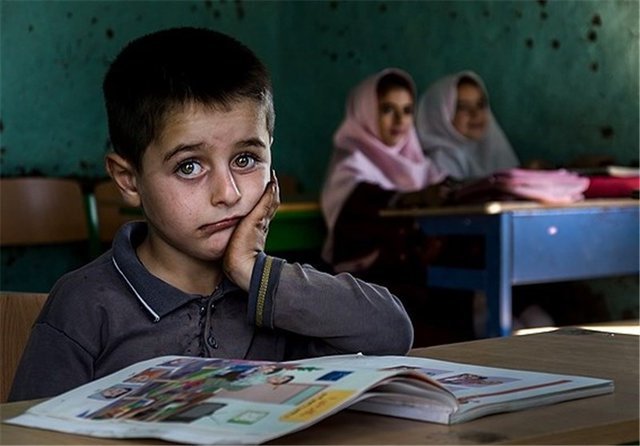 TEHRAN – Five provinces of Sistan-Baluchestan, Tehran, Khorasan Razavi, Khuzestan and Kerman are home to the highest number of children not having access to school or education nationwide, Deputy Education Minister Rezvan Hakimzadeh has stated.
In the previous school year 1396-1397 (beginning Sept. 23, 2017), some 142,502 children were missing out on education across the country, but 31,910 of them returned to schools, Hakimzadeh noted.
She went on to announce that boys failing to have access to schooling amounted to 73,408 compared to the number of 69,094 girls in last school year, Mehr reported on Saturday.
While provinces of Sistan-Baluchestan, Tehran, Khorasan Razavi, Khuzestan and Kerman have the most out of school rates, provinces of Semnan, Zanjan, Ilam, Qazvin and Yazd have the lowest number of children not receiving education at schools, she further explained.
The literacy rate in the country has reached almost over 90 percent and also enrollment rate in primary education increased to 98 percent, she added.
Referring to providing education to these children as the main priority to the Ministry of Education and governors, she said that governors must set up special working groups to identify school dropouts and remove their barriers to education.
Many issues lead to children missing education, including social and cultural problems and financial problems, which is the main one among the others, she said, adding that poverty, immigration, addiction, social harm, ignorance of rights and responsibilities, discrimination, tension, lack of motivation are also among the issues preventing children from attending school.
Hakimzadeh also said that although there are no legal barriers, lack of proper law to consider punishment for parents who do not send their children to school requires serious consideration, and children's right to education is mandatory in the law.
Elsewhere in her remarks, she referred to 450,000 foreign national studying in the country's schools and said that Iran is amongst the countries providing education not only to almost all its citizens but to many foreign nationals.
As per the decree issued by the leader of the Islamic Revolution, some 5,500 undocumented foreign nationals have been enrolled in primary schools this year, which demonstrates an 11 percent increase compared to past years.
Following a decree issued by the Leader in May 2015, all foreign nationals, even those who have no identification and are living in Iran illegally, are allowed to attend schools.
Pointing to Iran's improvement in Human Development Index 2017, ranking 60 out of 189 countries, she highlighted that the average literacy level in HDI was 3.2, which have reached 9.2 in 2017.
The HDI is a summary measure for assessing long-term progress in three basic dimensions of human development: a long and healthy life, access to knowledge and a decent standard of living.
She further called on all the responsible bodies to join hands to help these children find their ways back to schools in cooperation with the Ministry.
Main reasons behind school dropouts
Deputy Minister of Cooperatives, Labor, and Social Welfare, Ahmad Meydari, for his part said "we made phone calls to 27,000 families nationwide to discover the main reasons for children not accessing schools, many of which have been poverty, low income or disabilities."
The Education Ministry provided us with 142,000 out-of-school children's identification code, however, before the number of these children was reported by the National Organization for Civil Registration amounting to 500,000, he stated.
We succeeded to call 27,000 families and figured out that some 3,600 families are financially struggling, 1,100 of which have been far from schools and could not afford the transportation costs, and some 10,000 have referred to disability as the reason why their children are missing out on school.
He also highlighted that no parent has the right to deprive children from learning, adding, this must be noted in the law; same as many countries in which preventing children from education is considered a crime.
Meydari further called on the Welfare Organization and Imam Khomeini Relief Foundation to cooperate in the field of covering some costs or providing transportation for children deprived of education in order to get them back to the schools.
Out-of-schools and sustainability worldwide
According to the UNESCO globally about 262 million children and youth are out of school, according to the UNESCO Institute for Statistics (UIS) data for the school year ending in 2017. The total includes 64 million children of primary school age, 61 million of lower secondary school age and 138 million of upper secondary age.
The number of out-of-schools tend to increase with age as youth find or search for employment. But to what extent do they have the skills to find a first job, for example?
Out-of-school rates might have direct effect on sustainability, as countries with low literacy rate or high school dropouts cannot reach the 4th sustainable development goal.
So, UNESCO urges countries for greater investment in education at the global, regional and national levels, including more resources for data collection and analysis in an attempt to achieve universal primary and secondary education by 2030.

FB/MQ/MG