The coquetry of Persian table for foreign tourists
January 6, 2019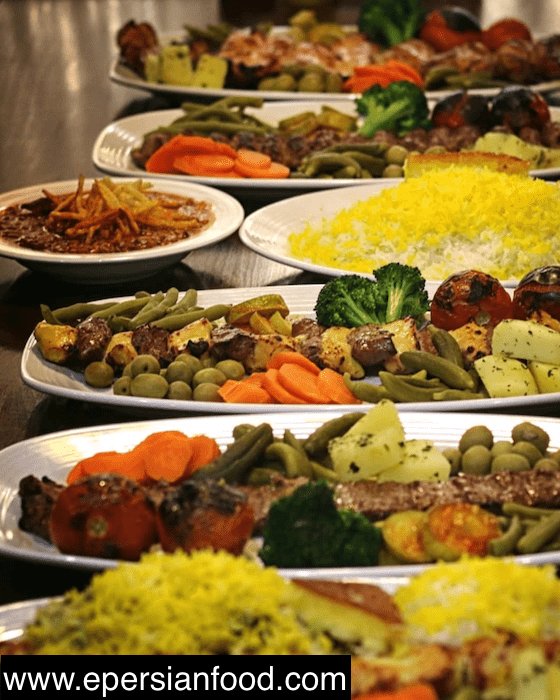 One of the memorable memories of foreign tourists of traveling to four seasons and mythical country, Iran is its delicious foods. The foods that change from north to south and from east to west with climate change and make Iran's table fuller.
Just a few days ago, the Telegraph magazine had brought 10 food reasons why tourists had to travel to Iran even for them and experience the amazing taste of Persian foods.
According to the author of this report in Iran, tourists can enjoy a variety of Persian foods like a king; foods such as juicy and saffron Kababs, juicy stews with pieces of meat and sweets filled with tasty creams!
Apart from Kabab and its popularity among Iranian and foreign tourists, there are other foods that have been remained their tastes under the tooth of foreign tourists. We will talk some delicious and popular dishes that have been listed on the list of the most popular Persian foods in terms of foreign tourists. Be with us:
Khoresht Gheymeh (Split peas stew)
Gheymeh stew is one of the 5 most popular Persian stews. Khoresht Gheymeh can be considered as Persian foods that foreign tourists have established a good relationship with it and it is very popular for them. You can refer to the link below to make Gheymeh stew.
Fesenjan stew (Persian pomegranate paste and walnut stew)
This tasty stew, with its sour and sweet taste, has been able to be known as the most popular Persian food on the Food Republic. This stew is made by minced walnuts, pomegranate paste, and sugar, with chicken or minced meat and is one of the most delicious Persian foods.
Eggplant Stew
Eggplant is one of the most popular foods in Iran. Few people see who does not like the unique taste of eggplant. This delicious and tasty stew that is cooked with fried eggplants, tomatoes and meat is served with rice as well as with Sangak bread and herbs, which is undoubtedly fascinated by anyone who once tried it.
Ghormeh sabzi (Persian herb stew)
This authentic Persian stew is among the delicious foods of the country. Ghormeh sabzi stew has a unique flavor and smell and is made up of red beans, stew herbs, meat and dried lemon and served with Iranian rice. To make it fresh and its well-simmering have also tricks, and not everyone's work.
Abgoosht (Gravy)
Abgoosht or Dizi is a traditional Persian food. When foreign tourists travel to Iran, they are more interested in traditional Persian foods. Among these traditional foods, Abgoosht has always been their favorite food among these traditional foods.
Click on the link below to learn how to make Abgoosht.
Baghali Polo (Persian Fave Bean and dill with rice)
Baghali polo with shank also delights in the Persian table, and foreign tourists should be careful about their fingers when they eat this food. Green and yellow beans have been cooked among Iranian rice, along with aromatic polo herbs and saffron, which has been cooked with butter or animal oil and is served with shank and is among the unique foods of Iran.
Javaher Polo
Iranian delicious Polo that is combined by Iranian rice with pistachio slices, almond slices, carrots, peels of orange, barberry and saffron. The Iranians fry the barberry with a small amount of sugar to balance the taste of this food.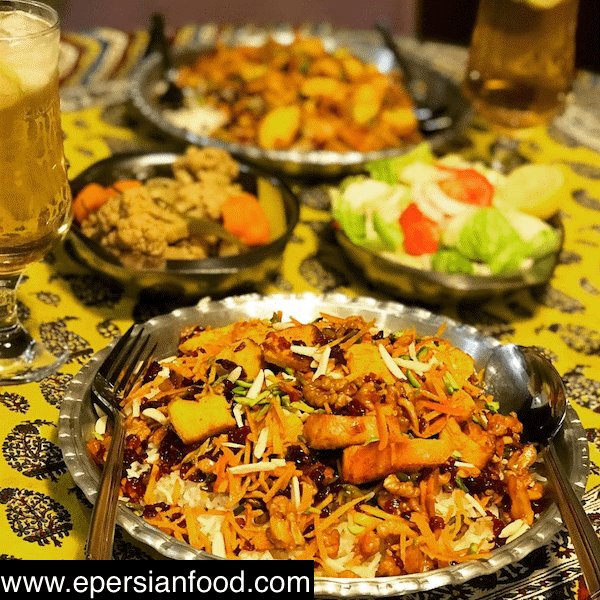 Zereshk polo (Persian barberry Rice)
This delicious Persian food is a combination of rice and barberry served along with the chicken. This majestic food is the mourning and wedding party in Iran and among the people of the country also has many fans.
In the list of popular Persian foods between foreign tourists, many of our local food is empty. It is time for Iranian chefs to try and make well the menus of the restaurants with local pure foods, and on the other hand, cookery festivals can bring the aroma of Persian foods to the world.
Estamboli polo(Persian tomato rice)
Estamboli polo is one of the most delicious Persian foods. This food is also easy to cook and has important tips when cooking. You can click on the link below to learn how to cook Estamboli polo.
If you have non-Iranian guests, you can surprise him by making Estamboli polo, and so show him eating a delicious, Persian meal.