By Syed Zafar Mehdi
Taliban call off talks with U.S. officials over 'agenda disagreement'
January 10, 2019 - 10:39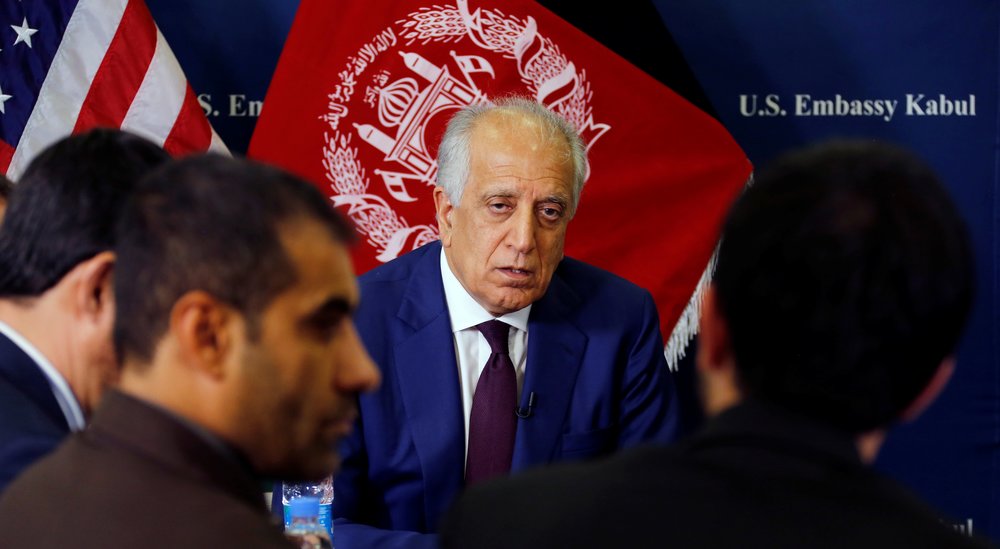 Much to the chagrin of mandarins in Washington, Taliban have called off 'peace talks' with the U.S. officials in Qatar this week due to an "agenda disagreement".
This month's talks, the fourth in a series of talks between the two sides in recent months, aimed was scheduled between Taliban leaders and U.S. special envoy Zalmay Khalilzad to discuss the withdrawal of foreign forces and a possible ceasefire in 2019.
Taliban, which has vehemently rejected the offers of Afghan government to engage in direct talks, canceled this week's talks with U.S. officials reportedly due to involvement of Afghan officials in the process.
"The U.S. officials insisted that the Taliban should meet the Afghan authorities in Qatar and both sides were in disagreement over declaring a ceasefire in 2019," a Taliban source was quoted as saying by Reuters.
Earlier Taliban spokesman Zabihullah Mujahid said the two sides were still working on the technical details and were not clear on the agenda for the talks.
This week's talks involved U.S. withdrawal, prisoner exchange and the lifting of a ban on movement of Taliban leaders, a Taliban leader was quoted saying by Reuters.
The report, quoting Taliban sources, said they had demanded U.S. authorities release 25,000 prisoners and they would free 3,000, but that U.S. officials were not keen to discuss the exchange at this stage.
"We would never announce any ceasefire until and unless we achieve major gains on the ground. We have the feeling that Zalmay Khalilzad doesn't have enough power to make important decisions," a Taliban official is quoted as saying.
The U.S. imposed war in Afghanistan has stretched into its 18th year now and security situation has only deteriorated in all these years, raising big question marks over America's longest war and its objectives.
Last month, Donald Trump ordered the withdrawal of half of U.S. troops from the war-ravaged country, a decision that was welcomed by world leaders, considering the failure of successive U.S. regimes to bring peace to the country.
Meanwhile, regional countries including Pakistan and Iran have stepped up efforts to help bring to end the protracted war in Afghanistan.
Iran hosted a Taliban delegation recently and discussed 'post-occupation scenario', according to reports. The talks were held in coordination with the Afghan government.
Following the talks, deputy foreign minister Abbas Araqchi visited Kabul to discuss it with Afghan government officials. Foreign Minister Javad Zarif, who was on three-day visit to India also discussed the Afghan-led peace process with Indian officials.
Mohammad Umer Daudzai, Afghan President Ashraf Ghani's special envoy for peace, visited Pakistan this week to hold talks with the officials there.
He conveyed Afghan government's "strong desire to work closely with Pakistan in all areas of mutual interest", a statement issued by Pakistan's foreign office said.
The special envoy also relayed "deep appreciation of the sincerity and vision of Prime Minister Imran Khan for peace and stability in Pakistan", the press release added.
Pakistan's foreign minister Shah Mehmood Qureshi assured him of Pakistan's commitment to peace in the region. He said stability in Afghanistan was in Pakistan's own national interest, and necessary for economic development and prosperity in the region, the statement said.
Qureshi highlighted the growing global view that the suffering of the Afghan people needs to be brought to an end through a peaceful resolution of the conflict.
He assured the envoy that Pakistan "would do all to help the people of Afghanistan see the earliest possible end to bloodshed and enter a new phase of peace and prosperity".
The Afghan special envoy noted that the two countries had a "unique relationship marked by commonalities and similarity of interests".