"U.S. seeking to build a wall around Iran"
Pompeo's anti-Iran tour doomed to failure: Rouhani
January 15, 2019 - 22:46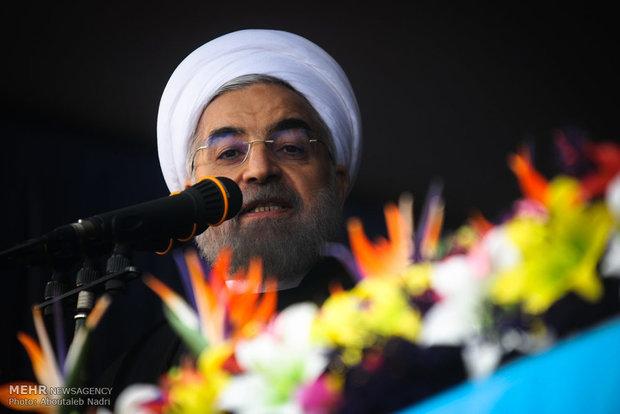 TEHRAN – President Hassan Rouhani said on Tuesday U.S. Secretary of State Mike Pompeo's anti-Iran Middle East tour is doomed to failure, no matter how long it lasts, Mehr reported.
Speaking at a meeting of the administrative council of Golestan Province, Rouhani said while the country is not experiencing normal conditions, "we do not fear sanctions, we do not retreat and abandon our goals."
U.S. President Donald Trump is seeking to drive a wedge between the Iranian people and the government "so that we abandon our independence and be isolated, but he didn't succeed and will not be successful in the future," he said.
What the U.S. is seeking by bringing up negotiations is to force Iran to abandon its nuclear technology, the President stated, adding that Iran is still making progress in the nuclear field despite the sanctions.
Warning that the U.S. is seeking to build a wall around Iran, Rouhani said, "It is not possible for the U.S. to do this and Iran will never be isolated."
There are only a few countries across the globe that are supporting Washington's move with regard to the 2015 nuclear agreement and sanctions against Iran, he added.
Elsewhere in his remarks, Rouhani pointed out that Washington aims to decrease the role of Iran in the region "so that we cannot be among the leading and influential countries in this region."
"The U.S. wants Iran to leave the scene so it can take charge of everything. This is not achievable," he asserted.
He pointed to Yemen, Syria and Iraq as countries in which the United States failed to achieve its goals. "What happened in these countries was completely different from what they thought."
The Americans have spent money and used advanced military equipment to achieve their objectives in Yemen, but today they admit to their defeat and acknowledge that this conflict has no military solution, Rouhani remarked.
"The Americans should be held accountable for the disasters they have caused in Afghanistan, Pakistan, Yemen, Syria and elsewhere," he added.
MH/