Officials call for closer Tehran-Damascus ties
January 15, 2019 - 20:19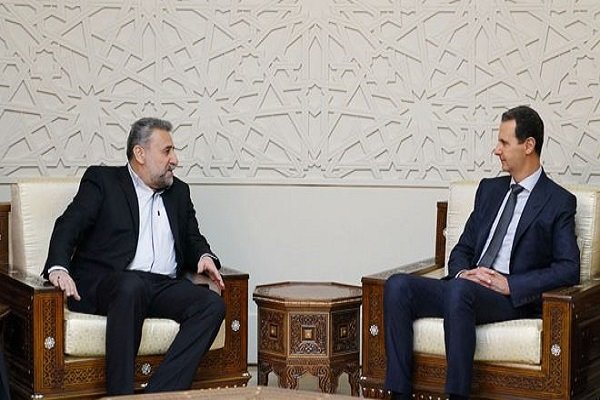 TEHRAN – The chairman of the Iranian parliament's National Security and Foreign Policy Committee and Syrian President Bashar Assad in a Monday meeting underlined the importance of enhanced ties between the two countries.
Assad and Heshmatollah Falahatpisheh affirmed the two countries' determination to continue to develop their bilateral ties and serve the interests of their nations in the fields of economy and politics, Tasnim news agency reported.
"The relationship between Damascus and Tehran has been based on principles, morals, and respect for the will of the peoples to determine their fate and build their future away from any external interference, and this approach contributed to the independence of the two countries," Assad said.
The Syrian president stressed the need for enhancing the ties between the two nations.
Falahatpisheh, for his part, emphasized the importance of closer bilateral ties.
He further slammed certain countries for "seeking to use terrorism as an instrument and imposing sanctions on other countries to achieve their interests in the region".
The senior Iranian lawmaker also sat down with Syria's Foreign Minister Walid al-Muallem on Monday.
The two sides expressed their will to enhance and develop the mutual ties at various fields, including parliamentary relations.
The two sides also exchanged views about the latest developments in the region.
In his third meeting, Falahatpisheh held talks with Syria's parliament speaker Hammoudeh Sabbagh.
Sabbagh described Iran as Syria's main partner that helped the Arab country in fighting terrorist groups.
For his turn, the Iranian MP said, "Iran will continue to support Syria until its final victory against terrorism".
SP/