Interior minister calls on Judiciary to counter 'disappointing talk'
Large turnout at Bahman 22 rallies to foil plots: Rahmani Fazli
January 22, 2019 - 21:3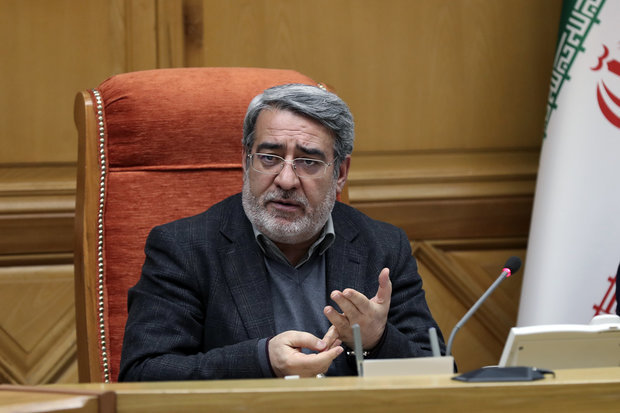 TEHRAN – Interior Minister Abdolreza Rahmani Fazli has underlined the importance of the Bahman 22nd (Feb. 11th) rallies marking the 40th anniversary of the victory of the Islamic Revolution, saying the glory of the nation's large turnout would foil the enemies' plots. 
The enemies' campaign against the rallies and their focus on "sinister goals such as the overthrow of the (Islamic) establishment before the 40th anniversary of the revolution" double the importance of holding the ceremonies gloriously, Rahmani Fazli said in a speech on Monday night, Tasnim reported.
"The people's turnout and their support for the country have always led to the despair and disappointment of the enemies and the hegemonic system," the interior minister remarked.
He further hailed the Iranian nation as "the strongest element against the enemy".
In a speech in December 2018, Leader of the Islamic Revolution Ayatollah Ali Khamenei dismissed comments by U.S. officials that the Islamic Republic would not see its 40th anniversary, saying the Iranian nation will celebrate the event this year more magnificently than before.
The Iranian nation toppled the U.S.-backed Pahlavi regime on February 11, 1979, ending the 2,500 years of monarchy in the country.
Every year Iranians mark the anniversary of the Islamic Revolution from February 1 to 11, known as the Ten-Day Fajr ceremonies. On February 1, 1979, Imam Khomeini returned home from years of exile in Iraq, Turkey, and France.
'Spreading disappointment unacceptable'
Elsewhere in his remarks, Rahmani Fazli said spreading disappointment and creating divisions in the society are "unacceptable acts", calling on the Judiciary to take a tougher stance on the issue within the framework of legal principles.
He argued that such moves are the epitome of "narrow-mindedness" and lack of true understanding of national interests and security, expressing regrets that certain individuals and movements believe they can defend the Islamic Republic by attacking the Rouhani administration.
"We're all in the same boat, so we all should strive for the country's national interests and security," the minister concluded.
MH/PA