Iran nuclear deal has isolated U.S., Zarif says
January 28, 2019 - 20:11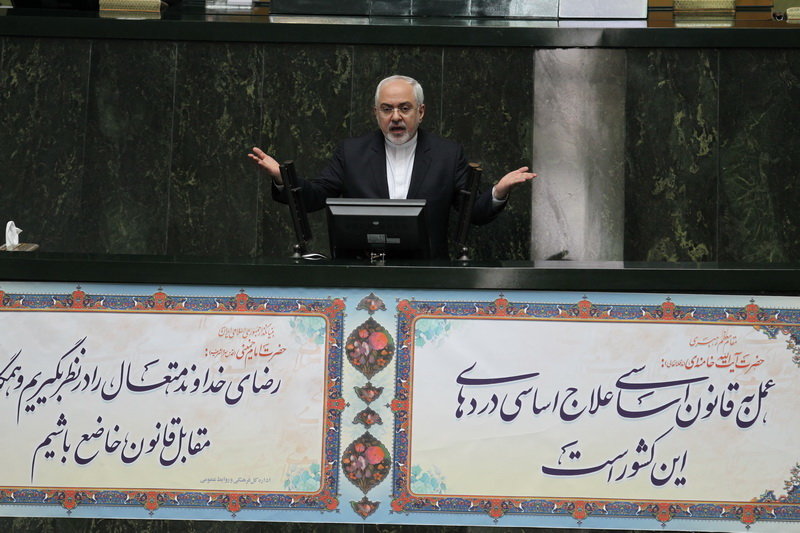 TEHRAN – Iranian Foreign Minister Mohammad Javad Zarif said on Monday that the 2015 nuclear deal, internationally known as the Joint Comprehensive Plan of Action (JCPOA), has isolated the U.S. and put it in a "complicated situation".
U.S. President Donald Trump's decision to unilaterally withdraw from the JCPOA has been severely criticized even by Washington's closes allies in Europe. Only Israel, Saudi Arabia and the UAE welcomed Trump's exit from the international agreement.
"Given the national interests, we believe that the best decision has been taken. This decision has put the U.S. in a complicated situation in which it is making every effort to get out of isolation," Zarif told an open session of the parliament.
The United States violated international law by pulling out from the nuclear agreement which has been endorsed by the UN Security Council Resolution 2231.
Zarif noted that the Trump administration respects no international law.
Zarif also criticized remarks by MP Ali Adyani from the Qa'emshahr constituency who compared the JCPOA to the Treaty of Turkmenchay.
The Treaty of Turkmenchay was signed by Iran and Russia in 1828 based on which Iran conceded large swathes of territory to Russia.
"Why do not you realize that it is Trump who should call the JCPOA [the Treaty of] Turkmenchay and not you? Do not sell the country's achievements short. These are not achievements of diplomacy, rather achievements of the people's resistance. The people who have brought Trump to knees many times," Zarif remarked.
Trump withdrew the U.S. unilaterally from the 2015 nuclear deal in May and ordered sanctions against Iran. The first round of sanctions went into force on August 6 and the second round, which targets Iran's oil exports and banks, were snapped back on November 4.
The Trump administration has threatened to sanction any country that do business with Iran.
In an interview with the European Council on Foreign Relations published on January 11, EU foreign policy chief Federica Mogherini said that the United States cannot impose its policies on the 28-nation bloc's legitimate trade relations with Iran.
The EU was expected to unveil its special payment mechanism, known as the SPV, for trade with Iran on Monday.
'UAE has adopted unacceptable approach toward Iran'
Foreign Minister Zarif also said that officials in Abu Dhabi have adopted an "unacceptable approach" toward Iranian businesses in the United Arab Emirates.
However, Zarif said, Iran is seeking to find "alternative methods and countries" for economic relations.
"A number of Iranian businessmen and money exchange agents faced many problems and many of them have relocated to other countries that have better relations with the Islamic Republic of Iran and we supported them," he said.
Reportedly, UAE-based Iranian businesses have moved to Qatar and Oman in recent years.
NA/PA