Rouhani says the U.S., not his government, is to blame for problems
January 31, 2019 - 0:49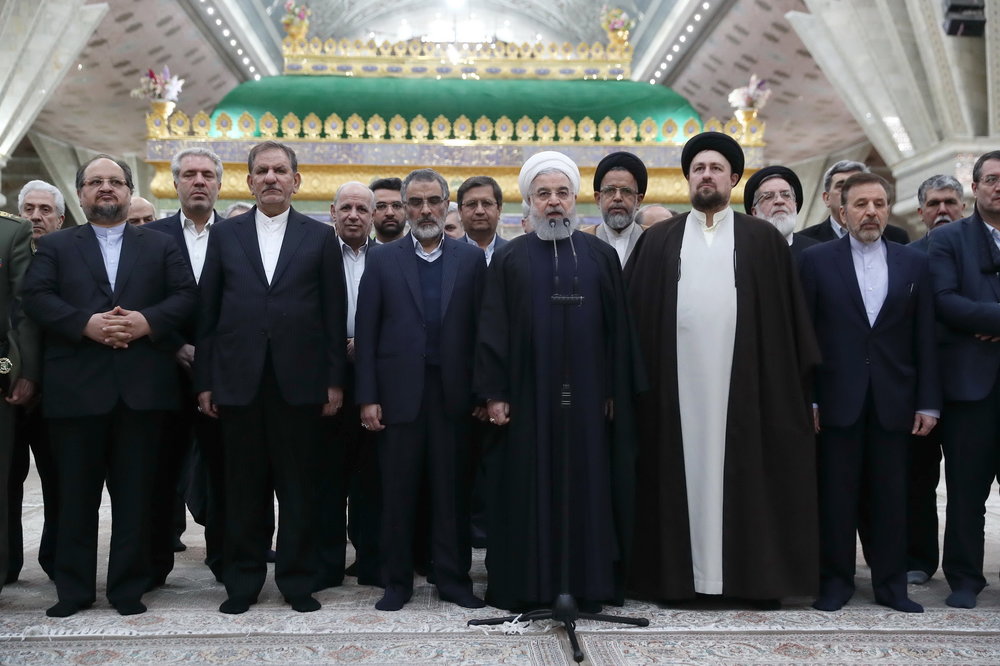 TEHRAN – President Hassan Rouhani said on Wednesday that it is the U.S. and not his government or the Islamic Republic system that should be blamed for the problems arising from the restoration of sanctions.
During a ceremony held to renew allegiance to founder of the Islamic Republic Imam Khomeini, Rouhani said, "There should not be wrong interpretation. Today, our main problems are because of the U.S. and its allies' pressure. No one should condemn the serving government or the great Islamic system instead of the U.S."
President Donald Trump withdrew the U.S. unilaterally from the 2015 nuclear deal in May and ordered sanctions against Iran. The first round of sanctions went into force on August 6 and the second round, which targets Iran's oil exports and banks, were snapped back on November 4.
All the countries condemned the U.S. for pulling out of the nuclear deal (JCPOA). Only Israel, Saudi Arabia and the UAE welcomed the illegal move by the Trump administration.
Rouhani said all countries, except for certain ones, have condemned the U.S. approach towards Iran.
However, he said that the U.S. psychological war against Iran has failed.
The Iranian people will defeat the U.S. economic war through resistance, he predicted.
Behaving like a bully, the U.S. has threatened to punish any company or country that do business with Iran.
'Imam Khomeini's power was raising hope among people'
Rouhani also said that Imam Khomeini's power was raising hope among the people which resulted in unity and integrity.
"No power, neither the U.S. nor others, can harm us as long as we follow Imam Khomeini's path and policies of the Leader [of the Islamic Revolution Ayatollah Seyyed Ali Khamenei]," he pointed out.
The president said all should be united against enemies and their "reactionary allies" in the region in order to overcome the problems.
"This is the most intense economic pressure against the Iranian people over the past 40 years since the Islamic Revolution. Hopefully, we will overcome these problems through unity, integrity and hope," he said.
NA/PA