Foreign Minister Zarif says Israel is looking for war.
Zarif: Iran won't forsake own security for Le Drian's sake
February 17, 2019 - 20:46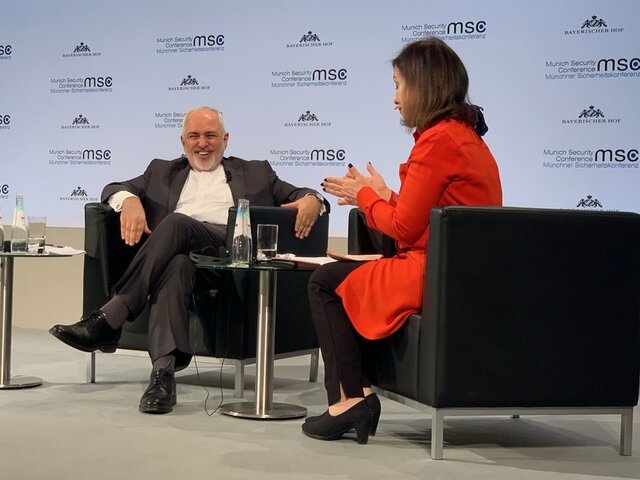 TEHRAN – In a panel discussion on the sidelines of the Munich Security Conference on Sunday, Foreign Minister Mohammad Javad Zarif said he cannot deprive his country of its defense capabilities just for the sake of his French counterpart, Jean-Yves Le Drian.
He made the remark when asked to comment on the position of some European countries, including France, which demand negotiations with Iran on its ballistic missile program, ISNA reported.
"I cannot leave the door open for some to attack my country and harm its people. In Iran, there are many people who are still suffering from the chemical weapons that Europeans sold to Saddam's regime," he said.
On recent reports regarding U.S. plans to sabotage Iranian missiles and rockets, Zarif said Iran is still investigating the issue.
He pointed to U.S.-Israeli assassination of Iran's nuclear scientists, saying they should be reminded that the world is not a jungle, where they can do whatever they want.
He condemned Washington's regime-change approach toward Iran and its support of the Mujahedin Khalq Organization (MKO), saying for forty years the U.S. rulers think the Islamic Republic will just disappear into thin air.
The foreign minister also said Israel is looking for war and warned that its actions and those of the United States were increasing the chances of a clash in the region.
"Certainly, some people are looking for war ... Israel," Reuters quoted Zarif as saying. "The risk (of war) is great. The risk will be even greater if you continue to turn a blind eye to severe violations of international law."
He further said Israel has violated international law after bombing campaigns in Syria, criticizing European powers for not calling out Israel and the United States for their behavior in the region.
"Israeli behavior is putting international law on the shelf, U.S. behavior is putting international law on the shelf," he said.
MH/PA