Tehran criticizes EU delay in registering INSTEX
February 18, 2019 - 20:51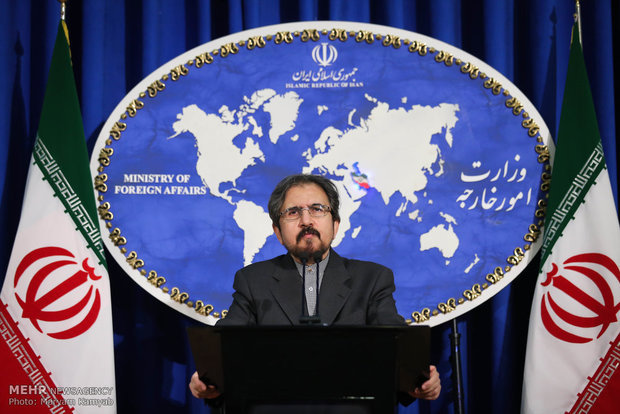 TEHRAN – Tehran has criticized the European Union (EU) for its delay in registering INSTEX, a financial channel for trade with Iran in the face of U.S. sanctions.
So far Europe has not been very successful in registering INSTEX and this issue has progressed very slowly, Foreign Ministry spokesman Bahram Qassemi said on Monday during his bi-weekly press conference.
He acknowledged that the EU has taken the first step to open up the financial channel, but emphasized that Europe needs to fully implement INSTEX.
"They cannot expect Iran to completely fulfil its commitments in these circumstances," he said. "We have repeatedly emphasized that our patience is limited."
Qassemi also urged Europe to put more efforts in countering U.S. unilateralism. "We hope they will be able to perform their intrinsic duty and historic role."
Asked about the Foreign Ministry's stance with regard to Iran's accession to the Financial Action Task Force (FATF), the spokesman said ratification of the FATF-related bills is "beneficial to the country, people and economy."
"We hope the Expediency Council, which is supposed to make a decision on this issue, has a proper assessment and quickly ratifies whatever is expedient for the people and country," he stated.
'Pakistan given warnings on terrorists'
Commenting on a recent attack by the Jaish ul-Adl terrorist group, which is based in Pakistan, Qassemi said Iran has given Pakistan the "necessary warnings" to take immediate actions to prevent terrorist groups based in that country from freely crossing into Iran and conducting attacks.
"It is not tolerable for us that the government and the army of Pakistan cannot prevent such acts of sabotage and terror from inside their soil against Iran," he said.
On Wednesday, an explosives-laden car rammed into a bus carrying members of the Islamic Revolution Guards Corps (IRGC) on a road in Sistan-Baluchestan Province, killing and injuring dozens of people.
Qassemi said "We hope this matter can be resolved appropriately through strengthened determination."
Qassemi declined to comment on Saudi Crown Prince Mohammed bin Salman's visit to Pakistan, saying "foreign relations of our neighbors is their own business and we do not interfere in that."
He then advised "our friends" to beware of some misdemeanors by certain countries aimed at impacting their relations with Iran.
MH/PA