Puppets to recount Sheikh Sanan tragedy from "Conference of the Birds"
February 23, 2019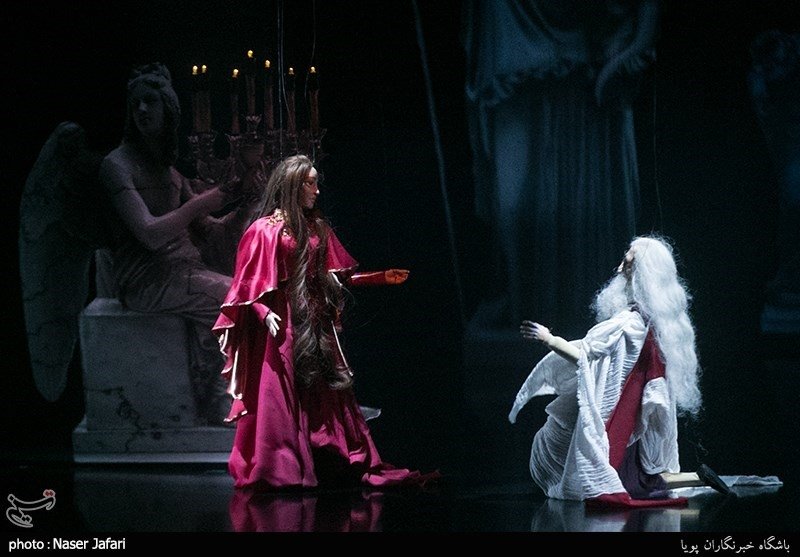 TEHRAN – Iranian director Behruz Gharibpur's Aran Theater Troupe will perform an opera puppet show titled "Love" based on the Sheikh Sanan tragedy from Persian poet Attar Neyshaburi's "The Conference of the Birds" at Tehran's Ferdowsi Hall tonight. 
The story is about Sanan's love for a Christian girl, who forces the sheikh to do things against his beliefs and religion.
Vocalist Davud Azad will lend his voice to Sheikh Sanan's character and Shora Karimi is the composer of the opera.
Over 20 singers, including Roshanak Keymanesh, Arash Khanzadi, Roham Khorshidvand, Sina Sazgari and Mohsen Mohebbi, will be collaborating in this production.
Gharibpur has previously staged the opera puppet shows "Ashura", "Macbeth", "Rustam and Sohrab", "Rumi", "Hafez" and "Sadi".
Photo: A scene from the "Love" opera puppet show by Iranian director Behruz Gharibpur. (Tasnim/Nasser Jafari)
ABU/MMS/YAW