By Saied Sobhani
Analysis of MBS's trip to three Asian countries 
February 24, 2019 - 10:58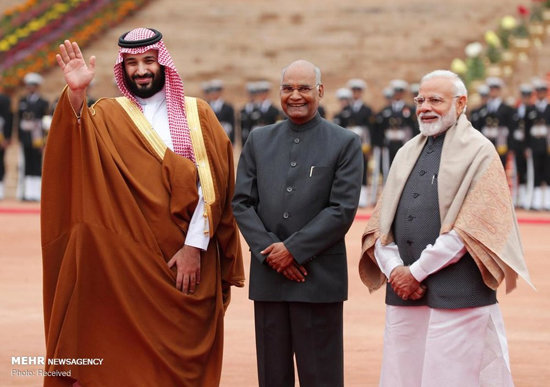 TEHRAN - Saudi Arabia's Crown Prince Mohammed Bin Salman Asian tour happens while still the murder of Jamal Khashoggi is a cloud hanging over him. 
The trips, each with its own goals and messages, was accompanied by specific incidents such as explosions that incurred which delayed bin Salman's trip to other countries on the schedule.
Here are some points regarding MBS Asian tour:
First, MBS's Asian tour being delayed by a day is a rare diplomatic incident and displays disarranged travel schedule, while trips of such nature are packed with back to back programs that leaves no room for errors. Thus, the objective of this trip seems to have been just to hang around.
Second, the Pakistani media reported Riyadh has paid for the trip expenses in full, from MBS personal stuff to 3,500 doves bought at local market flown when the Saudi Crown Prince steps out of his plan and is welcomed in the Asian countries.
Third, the cancellation of MBS trip to Malaysia and Indonesia without a particular reason shows no specific objective behind the trip.
Two pivotal points about Saudi Crown Prince trip to Pakistan are:
- Pakistan's nuclear program and Saudis' nuclear ambition
- Terrorist groups, who the army provides political coverage for get to compete in elections to silence the opposition voices
Two possible scenarios of MBS's trip to Asian counties:
First, since Mohammad bin Salman couldn't face the West after ordering the killing of khashoggi, concluded by the CIA, he decided to go eastward to avert attention from the issue. He was sending a message to the U.S. that he is willing to have nuclear cooperation with China, and Pakistan and invest in the East, should Washington go easy on him. MBS also sought to improve Saudi Arabia's image after the rise of Qataris.
Second, the U.S. has orchestrated a move in which MBS on behalf of the U.S. and in line with the support of terrorism makes attempts to turn Iran-Pakistan relations sour and negatively influence Tehran-Delhi oil interaction.
Thus, MBS's trip to Pakistan, India and China is to:
-Improve Riyadh's trade with India to influence India's import of Iran oil and Pakistan's gas deal with Iran. Saudi Arabia intends to jack up its oil export to India, Pakistan and China to replace Iran's oil which has been limited by the U.S. sanctions. MBS plans to exacerbate economic pressure on Iran by giving privileges and oil guarantees to these countries on behalf of Washington.
-MBS tries to restore his battered image and political isolation after the murder of Khashoggi, particularly in countries reluctant to accept him such as Malaysia and Indonesia. In other words, he plans to overcome a bottleneck with Saudi petrodollars, while it is still unclear whether his promises will be realized or not.
He tries to convey to the West and the U.S. that the Saudis also have an eye for the eastern market and not just the western markets. In other words, Riyadh's after balancing out interest in both markets.
Saudi Arabia is in a secret competition with Qatar especially after they broke ties with Doha, and now, they try to snatch the Asian markets.
The effective role of economy in international relations. The praise and warm welcome MBS received from Pakistani and Indian prime ministers prove the important role of economy in the relationships between Saudi Arabia with these two states and how economy overshadows politics.