By Mohammad Homaeefar
Zarif hails Rouhani's Iraq visit as new start in Tehran-Baghdad ties
March 10, 2019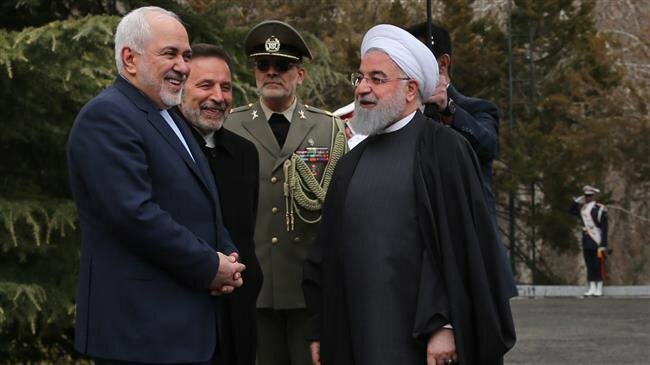 TEHRAN – Foreign Minister Mohammad Javad Zarif has said that President Hassan Rouhani's visit to Iraq will be a new start in Iran-Iraq relations.
Zarif, who arrived in Iraq on Saturday evening, made the remarks in an interview with the Iraqi al-Forat satellite TV network aired on Saturday, according to Press TV.
Pointing to measures aimed at boosting cooperation during Rouhani's visit to Iraq, Zarif said such cooperation will be in the areas of transit, oil, joint industrial work, and the dredging of Arvand River.
Rouhani is scheduled to arrive in Baghdad on Monday for a three-day visit.
Zarif said Iran and Iraq shared not only a border but historical affinities and common interests.
"We plan to use those commonalities to advance the joint interests of both countries as well as those of the region," he stated.
The foreign minister also said Tehran welcomes any initiative for dialogue and cooperation with regional countries, provided that they are not against any party.
"All countries in our region should be involved in such cooperation," he asserted.
'The region does not concern you!' Zarif quotes Saudis
In spite of Iran's calls for inclusive dialogue, Riyadh had shown no such willingness, Zarif said.
He added he had sent multiple messages to Saudi officials to voice Iran's readiness for bilateral and regional cooperation when he took office in 2013, to which they responded, "The region does not concern you!"
"It is now evident whether the region concerns us or not!" he said.
Zarif says his resignation was not related to Assad's Iran visit
Elsewhere in his remarks, Zarif said his unexpected resignation last month was not related to Syrian President Bashar al-Assad's trip to Iran.
He insisted that he has good relations with Syria and will be visiting the country soon.
'Talks with Trump won't be useful'
Asked about the possibility of negotiations with U.S. President Donald Trump, Zarif said dialogue had to be founded on respect, which was lacking on Trump's part.
Last year, the U.S. unilaterally exited a multilateral nuclear deal with Iran, officially known as the Joint Comprehensive Plan of Action (JCPOA), and reimposed sanctions that were lifted as part of the 2015 agreement.
"If you do not respect even your own words, one cannot expect you to respect (and uphold) a deal. Therefore, I don't believe dialogue [with the Trump administration] would be very useful," Zarif said.
MH/PA