By: Abdul Wahid Haidari
Nowruz in Afghanistan: Heralding New Year in a unique way
March 18, 2019 - 22:23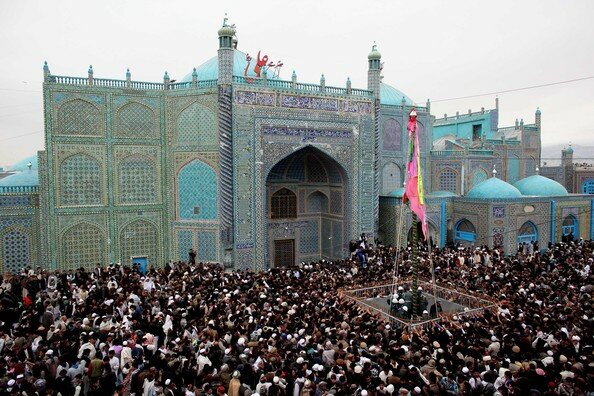 Nowruz heralds the arrival of new year and new spring. It is the harbinger of hope. The day has a long and rich history in Afghanistan where it is marked with tremendous enthusiasm and festive spirit.
Each year, people come together to celebrate the occasion in a traditional way, cutting across regional and ethnic divide. It's one of those rare occasions when the war-weary people forget their daily struggles and break into celebrations.
Nowruz is celebrated in Iran, Afghanistan, Tajikistan, Turkey and some other regional countries. Each place has its own unique way of celebrating the day, with exquisite customs and traditions.
In the run up to Nowruz, people get busy in cleaning the homes, painting the walls and shopping for new things to decorate their spaces. In remote rural areas of Afghanistan people collect white or red color clay from mountain tops to paint their mud houses.
Nowruz celebrations generally last more than a week. On day one, people dress up in brand new clothes similar to the color of nature, forests and mountains.
The celebrations include playing Buzkashi (the national sport of Afghanistan), wrestling matches, going on family picnics, relishing traditional food, and decorating the table for 'Haft Seen' and 'Haft Mewah' at home.
In northern parts of the country, the festival is celebrated with great passion. In northern Mazar-i-Sharif province, thousands of people from across the country assemble at the shrine of Imam Ali (as) and participate in flag hoisting ceremony (Jhande Bhala) and also annual rose festival (Mela-e-Gul-e-Surkh).
Many high-ranking officials from Kabul and foreign dignitaries attend the Nawroz ceremony in Imam Ali shrine in Mazar e Sharif. After flag hoisting (Jhande Balla) hundreds of while pigeons fly over the shrine, fresh rose petals are thrown from helicopters flying overhead and people rejoice, sing and dance .
Flag hoisting ceremony in Mazar i Sharif has a rich history dating back to the reign of Jamshid in ancient Balkh. The flag was known as Jamshid's flag before the advent of Islam. Afterwards it became associated with the shrine of Imam Ali (as) and today is a sacred symbol for devotees coming to the shrine on Nawroz.
The flag raised in the courtyard of the beautiful shrine remains there for 40 years, after which it's brought down.
Another important ceremony is held in the capital city Kabul where people gather at the shrine of Sakhi (referred to Imam Ali (as) in central Kabul to welcome the new year.
People in eastern province of Herat and central province of Ghazni also celebrate Nowruz with great festive spirit and tremendous fanfare.
A remarkable feature about the celebrations of Nowruz, especially in northern and central provinces of Afghanistan, is Buzkashi.
Buzkashi is a fascinating 'national sport' of Afghanistan with a long history. Hundreds of horse-riding players jostle to grab the carcass of goat and drag it from one goalpost to another.
On the new year, Buzkashi games are common and thousands of people come to a watch the games. The game was made popular by Oscar-nominated movie 'Buzkashi Boys' in 2016.
The food is also an integral part of Nowruz celebrations across the country.
On the eve of Nowruz, which is called the 'night of desire', people cook Sabzi Challaw (spinach and rice) and distribute among neighbors.
Also, bakeries make Kulcha e Nowrozy, a special rice cookies decorated in red and green colors in honor of the festival. People also make Qoroti (bread and yoghurt), make or buy Mahi (fried fish) and Jelabi (fried sugar dessert) mostly eaten at picnics.
Families go on picnics in Nowruz holidays. Of course, kite flying is at the center of all these outings. Afghanistan is a mountainous country with picturesque landscape.
Samanak, Haft Seen and Haft Mewah ceremonies have same traditions in Afghanistan, Iran and Tajikistan. In Nowroz, people visit families, friends and relatives to offer greetings of New Year.
These days, with people becoming addicted to social media, people have started hashtags of Nowruz and Haft Seen etc to celebrate the occasion and to wish each other best of everything in the year to come.
Nowruz thus is not just the beginning of New Year, it is the beginning of all good things, a rebirth of sorts.
Writer is an Afghan journalist and researcher.