Fajr ends with "A Russian Youth" as best film, criticism against U.S. sanctions on Iran
April 26, 2019 - 18:50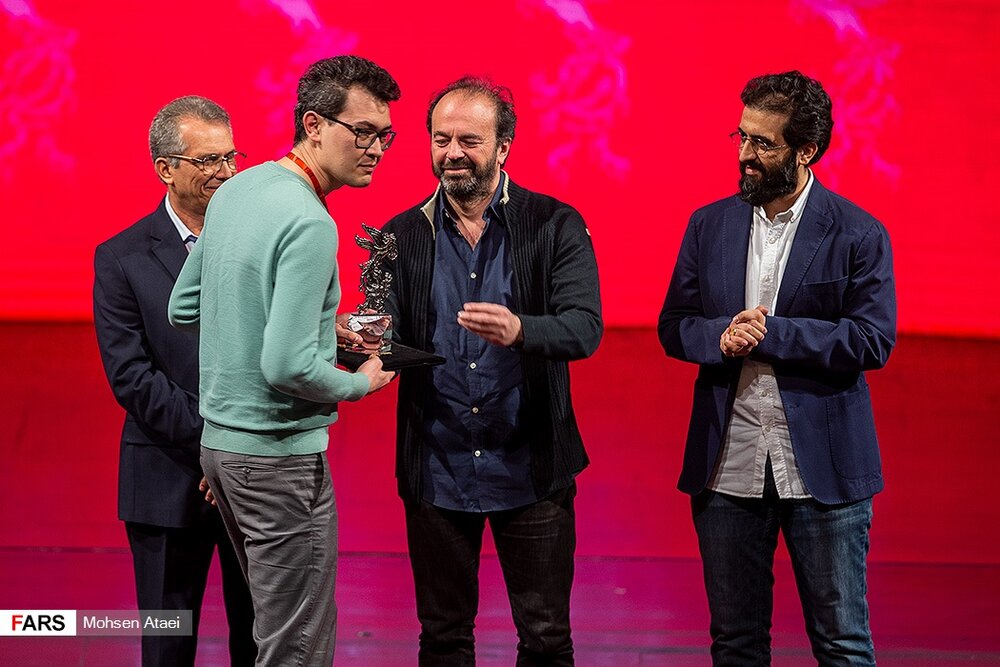 TEHRAN – "A Russian Youth", Russian director Alexander Zolotukhin's World War I drama won the award for best film at the 37th Fajr International Film Festival on Thursday as the director of the festival scorned Donald Trump's sanctions on Iran.
The movie, which received the Critics' Circle Award at the festival earlier on Wednesday, is about a young Russian soldier who has lost his sight during a German gas attack in World War I. But due to his strong sense of hearing, he is kept at the front to listen for enemy planes at the giant metal pipes that form a kind of early-warning system.
"Our team made this movie with love," Zolotukhin said and added that he is happy that his film received an award from an Iranian festival.
Ayrat Yamilov who has worked as a cinematographer in the film received the award on behalf of Zolotukhin during a ceremony held at Tehran's Vahdat Hall.
This film also received the award for best directorial movie.
The closing ceremony of Fajr, which is Iran's major international event in film industry, began with a speech by the festival's director, Reza Mirkarimi, who denounced the U.S. government's sanctions against Iran.
"This year we were confronted with unjust unilateral sanctions, which not only have targeted our economy but also our culture," he lamented.
"However, despite all the problems and due to the elevated position of Iranian cinema, we managed to organize a magnificent festival with our friends from across the world who didn't abandon us," he added.
The award for best director remained at home as Iranian filmmaker Sorush Sehat won the award for his latest film "Dance with Me".
In his brief speech, Sehat asked people to show tolerance towards their opponents. "If this would occur in the world, that is, if we befriend each other and understand our opponents, we will feel fine and the world will become good and then the world will begin to dance with us like now as the world is dancing with me."
Sorush Sehat (L) from Iran speaks after accepting the award for best director for his film "Dance with Me" during the 37th Fajr International Film Festival at Tehran's Vahdat Hall on April 25, 2019. (Fars/Mohsen Atai)
The award for best screenwriter went to Oliver Haffner and Gernot Krää for "Wackersdorf" directed by Haffner from Germany.
The film tells the story of residents in Wackersdorf, a municipality in the district of Schwandorf in Bavaria, who are concerned over plans to build a nuclear reprocessing plant in their small, but financially strapped community.
Martina Apostolova was picked as best actress for her portrayal of a part-time waitress in a small Bulgarian town in "Irina" directed by Nadejda Koseva.
"Before the Frost" by Danish director Michael Noer won its star, Jesper Christensen, the award for best actor.
The jury honored Chinese director Jingxiang Li with their special award for her "Spring Sparrow".
The award for best short film was presented to "Excess Will Save Us" by Swedish filmmaker Morgane Dziurla-Petit.
The story of the film is set in a small village in the northern France, where an attack alert leads to confusion.
In Eastern Vista, the festival's Asian films competition, "Without My Friend" by Mohammad-Ali Talebi from Iran was named best film.
"Rona, Azim's Mother", a co-production between Afghanistan and Iran by Jamshid Mahmudi, received an honorable mention. The film also was crowned best film in the interreligious film section.
The jury in this section also honored Huo Meng from China for his movie "Crossing the Border", while "Victim" by Iranian director Mehdi Mohammadnejadian was selected as best short film in this category.
Photo: Russian cinematographer Ayrat Yamilov (2nd L) receives the award for best film on behalf of "A Russian Youth" director Alexander Zolotukhin during the 37th Fajr International Film Festival at Tehran's Vahdat Hall on April 25, 2019. (Fars/Mohsen Atai)
MMS/YAW