Oil not to be used as a weapon to achieve political goals: Zanganeh
September 18, 2019 - 19:19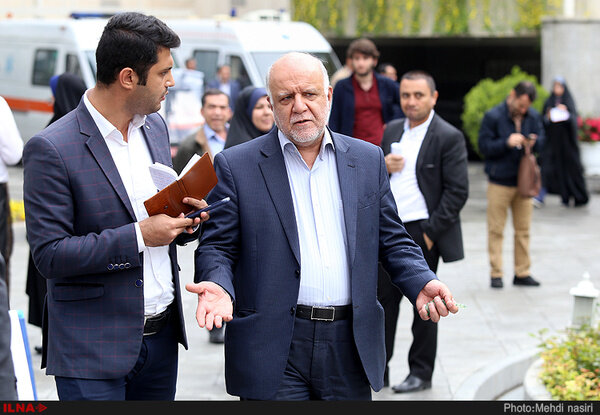 TEHRAN – Iranian Oil Minister Bijan Namdar Zanganeh said oil should not be used as a weapon for achieving political agendas, IRIB reported.
Referring to concerns about the security of oil supply in the market, Zanganeh said "This has also been our concern, we believe that oil should not be used as a weapon to achieve political agendas because it is a requirement of all human societies. And it must be allowed to flow freely in the marketplace."
Speaking to the press after a cabinet meeting on Wednesday, the official mentioned the impact of Aramco attack on the global markets, saying "It [the attacks] will have a short-term impact on the oil market, but it will affect everyone."
Drone attacks claimed by Yemen's armed forces on September 14, struck two of Saudi Aramco's major oil facilities in Khurais and Abqaiq - the world's largest oil processing facility and crude oil stabilization plant. Following the attacks, Brent crude posted its biggest ever intraday surge to reach $71 per barrel.
Zanganeh further underlined the increase in the country's gas production, noting that since last year the country's gas output has been increasing on a daily basis.
According to the official, the upward trend of gas production will continue in the future since National Iranian Oil Company (NIOC) is following plans to stabilize production in new offshore fields.
In early August, National Iranian Gas Company (NIGC) Dispatching Director Mehdi Jamshidi Dana had announced that the country's daily gas production reached 810 million cubic meters (mcm).
According to Jamshidi Dana, currently with over 39,000 kilometers of high pressure gas pipelines, 82 gas pressure boosting stations, 296 turbo-compressors and other gas facilities, Iranian gas network is Asia's biggest and the world's fourth largest network in terms of facilities.
According to the official, currently 93.6 percent of Iran's population enjoy natural gas. Gas is supplied to 97 percent of people in the urban areas and 82 percent of people in the rural regions.
EF/MA