Petchem industry is Iranian economy's driving force: VP
February 6, 2021 - 15:7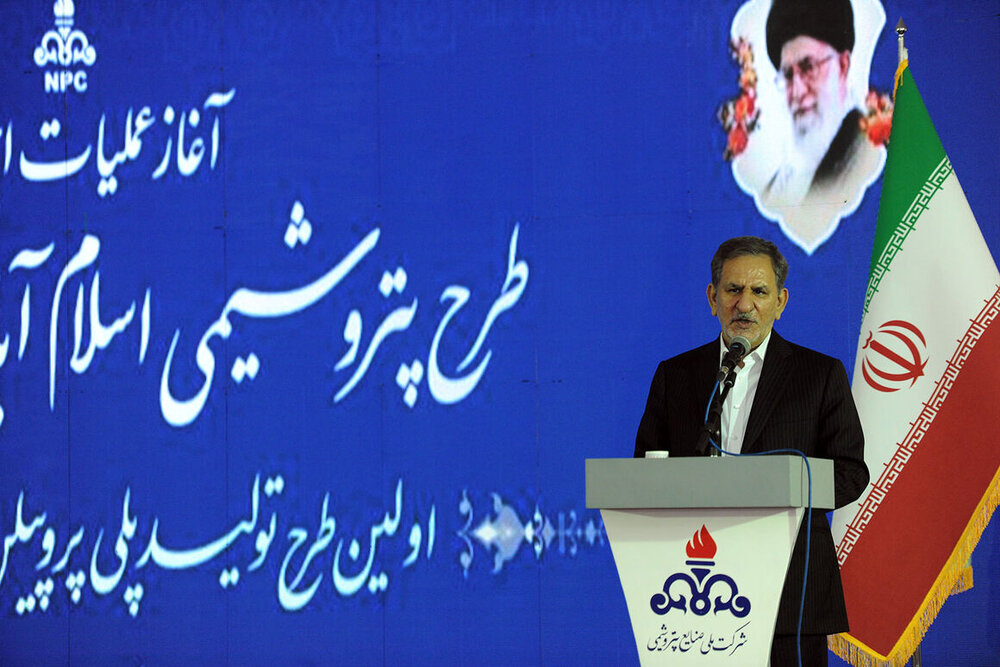 TEHRAN - First Vice-President Es'haq Jahangiri has stressed the significance of the petrochemical industry for the Iranian economy, calling it one of the country's major driving forces.
Speaking in the opening ceremony of a petrochemical complex in Kermanshah province on Saturday, Jahangiri said: "Every country relies on its major industries for development; such industries can play the role of locomotives that carry hundreds of wagons with them. Iran's petrochemical industry has such a position."
Stating that extensive measures have been taken for this industry, the official said: "The petrochemical industry in the country has reached a desirable point so that petrochemical production is going to reach 100 million tons in [the Iranian calendar year] 1400 (begins on March 21), the value of which is more than $25 billion."
He further mentioned the technological achievements in the industry and said currently all the construction steps, including design and implementation and providing equipment for the country's major petrochemical projects are carried out by local experts, which is an indication of this industry's efficiency.
The petrochemical industry plays a crucial role in Iran's non-oil economy, as the petrochemical export is the second-largest source of revenue for the country after crude oil. Petrochemical exports already constitute nearly 33 percent of the country's non-oil exports.
According to Iranian Oil Minister Bijan Namdar Zanganeh, the country is currently producing nearly 70 million tons of petrochemical products annually.
Back in August 2020, Zanganeh had announced that 27 petrochemical projects worth $17 billion will go operational across the country by March 20, 2021.
"One of the most important tasks of the petrochemical industry is to prevent the sale of raw materials by completing the value chain in the oil and gas industry, as well as supplying downstream feedstock for the domestic industries while preventing more than $5 billion in foreign currency from leaving the country annually," the minister said.
EF/MA